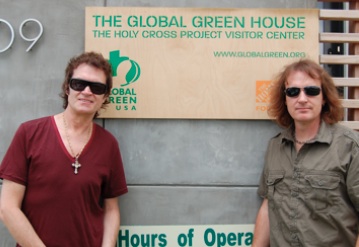 Global Green's New Orleans Director Beth Galante is on the incoming mayor's environmental transition team, so an eco friendly voice will be front and center in the next administration. That seems appropriate to mention on on this 40th anniversary of Earth Day.
Under Galante's supervision, Global Green's Holy Cross project is growing into "five single family homes, an 18-unit apartment building and a community center that is also going to hold the new coastal climate action center, all here on half a city block in the historic district known as the Holy Cross Neighborhood in the lower Ninth Ward," she told me. "We are on the highest ground in New Orleans, seven feet above sea level, just like the French Quarter and uptown in the Garden District. We have the most amazing view of downtown New Orleans in the city, and these units are going to be sold to former residents of the Lower Ninth Ward who lost their homes when the levees failed after hurricane Katrina."
In honor of Earth Day, Global Green's Build it Back Green" Workshop series kicks off on Tuesday, April 27th with, "What is Weatherization?" The program will be held from 6 to 8 p.m. at the Green Building Resource Center, 841 Carondelet Street, New Orleans. Weatherizing can help save some green as speakers discuss how to improve indoor air quality and save on utility bills with green materials. When we toured the Global Green Show Home with rockers including Glen Hughes (above left) of Deep Purple and David Ellefson of Megadeath during their Rock n Roll Fantasty Camp visit, many of the rockers questioned Galante about retrofitting their own homes based on the impressive advances they saw in the show house.
On that note, Happy Earth Day from the Big Easy.