Zulu, the Mardi Gras parade with the ultimate repurposed throw -- a decorated coconut -- is celebrating its 100th year and rolls as the most popular parade in New Orleans. A highlight of Louis Armstrong's life was the year he reigned as king. Two former Zulu queens are now in prominent positions at the Barack Obama administration -- social secretary Desiree Rogers and Environmental Protection Agency Director Lisa Jackson.
Sharing Mardi Gras memories post-Katrina, New Orleans countercultural icon John Sinclair has sent excerpts from his upcoming book, Mardi Gras to the World. His notes on coming back for Mardi Gras focus on what the African American culture means to the city. The broadcaster of Radio Free Amsterdam and founder of the White Panthers, John rocketed to fame when John Lennon threw a festival to release him from a 10-year prison sentence for a small amount of marijuana in the '70s.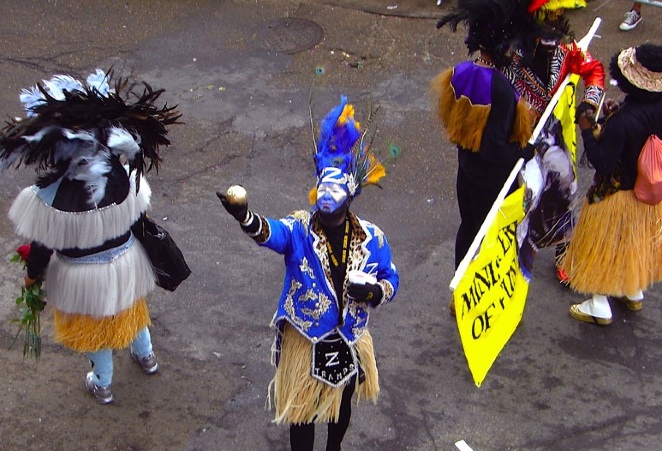 "Quiet as it's kept, or as they say in the 6th Ward, "a whole lotta people don't know" that the black underclass is essential to the functioning of the city. "Guess what?" They're the ones who do all the work, not only in the service industry but at the bottom of every job ladder. They're the laborers, the dock workers, the ditch diggers, the plasterers, the painters, the secretaries and clerks, the cleaning ladies and maids, the cooks and dishwashers and bar-backs and servers, the people who work at the post office and in the bars, restaurants, nightclubs and hotels that service the tourist industry. And they're the people who make the music and the vibrant street culture that has made New Orleans a destination of choice for people from all around the world."
- John Sinclair
Mardi Gras 2006
* * * *
Thank God New Orleans is indeed still a destination for people from all over the world, since tourism is still the city's bread and butter. Sunday was Barkus, the New Orleans dog parade. I like watching the non-marching dogs on the sidelines wondering what to make of their fellow canines marching by in wigs and feathers.
There's still time to book a Mardi Gras flight, and hotels from literary havens to Creole bed and breakfasts may still have room at the inn.