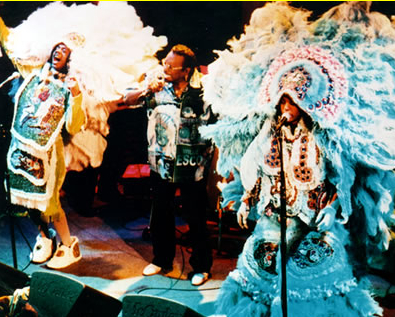 My dream of riding to D.C. in a Honda hybrid with Wanda Sykes as Bo Dollis and the Wild Magnolias sing "Handa Wanda" is clearly not happening in time for today's festivities. The concept has been haunting me ever since my husband asked, "Doesn't it sound like the Wild Magnolias are singing "Handa Wanda Obama?" Yes it did and Yes We Can.
A second option to the original Handa Wanda Obama vision would be to mix a Sazerac and if you have anything feathered in the house . . . go ahead, I'll wait . . . get yourself befeathered, beribboned, bedazzled, be anything because, as I mentioned earlier, Yes We Can.
Mardi Gras Indian feathers are probably out of the question if you asked for today off of work but some jackass managed to ask for it first and then showed up anyway just to be an inauguration buzzkill. Here's your Plan C: Crank up the speakers, bust out a go cup of Sazeracs and sing along to the track below.
This groove is one for the ages and if anyone in the world is fired up and ready to go, it would be the Wild Magnolias in Track Number 5. Once the song inspires you, come on down to Mardi Gras or Jazzfest and support some live local music as they say on WWOZ-FM. Fun fact - Quint Davis of the New Orleans Jazz and Heritage Festival produced this "Handa Wanda" track in 1970:
wildmagnolias.net/music.
More information about the Wild Magnolias and the Mardi Gras Indians is available on their site at: http://www.wildmagnolias.net.