The Autumn Defense, fronted by John Stirratt and Pat Sansone, is on tour with Nick Lowe, and I had the chance to catch up with both at their New Orleans gig last weekend. A sometime NOLA resident since his Uncle Tupelo years, John is now located in Chicago, where he plays bass with indie juggernaut Wilco.
Surprisingly, Sunday was the Autumn Defense's first New Orleans booking in their 13 years as a band. Another surprise, they ended with an acoustic cover of Bob Welch's "Sentimental Lady," and ever since, I've been humming, "'Cause we live in a time when paintings have no colors, words don't rhyme..." This is a brief interview with John (pictured at right):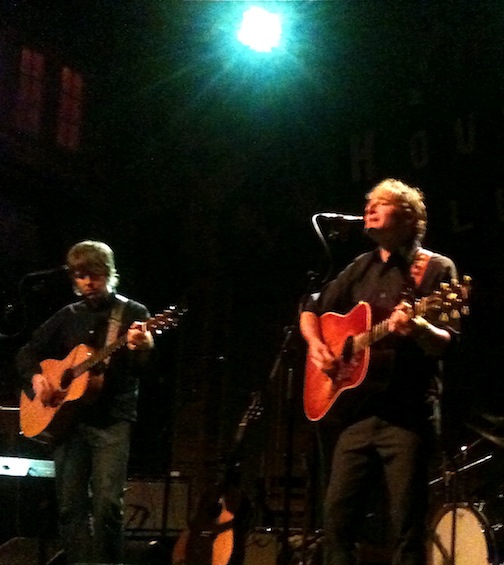 Welcome back to New Orleans! You recorded the band's first CD here at Kingsway Studio in 1999. What initially inspired you and Pat to form the Autumn Defense?
Mainly a shared love of the same records. We ran into each other at different spots and realized there were similarities, and one night listening to Forever Changes, we started strumming and harmonizing and realized we had cool harmony.
You and Pat have beautiful harmony and arrangements. "The Swallows of Londontown" from Once Around is so lyrically rich for a melodic pop tune. How do you and Pat go about writing the music and melodies together?
We bring songs in separately and work on them together, though Pat is the main arranger. The first album was all my tunes and him arranging. And we will usually write a tune together face-to-face for each record. "The Answer" (from 2003's Circles LP) was like that.
You've just kicked off touring with Nick Lowe, your Yep Rock Records label mate. What's it like sharing a bill with Mr. Lowe?
An honor. He's musical royalty to us, and in person he's like Hollywood royalty, like touring with Cary Grant.
Nickey Grant! Between New Orleans and Chicago, you've lived in two deeply musical cities. Who are some of your other musical influences?
New Orleans AM and FM radio in the '70s and early '80s, where the Meters would be played alongside Wings, etc., was such a rich environment, and I thought everywhere was like this! But later-'60s pop and '70s folk rock, English folk rock, as well. Mainly any good album from any genre.
The influences show. There's a new the Autumn Defense album in the works (hooray!), and this has been a good year for new work from my favorite people. What can you tell us about the early stages?
We did the basics as a four- and sometimes five-piece, which is different for us. We've now played together with the guys the last seven years, and they sound so great together that there's so much to gain from larger band performances. But so far, it's a bit more rocking than the last one, but we'll see.
I can't wait to hear it.
The Autum Defense's Once Around is available here.