Adam Levine started his Maroon 5 set wearing a jacket, as the record cold day at the New Orleans Jazz and Heritage Festival necessitated. Levine sang I'm At a Payphone while working the stage, the mic and the audience as the crowd went wild. Once he was down to his signature white tee shirt, the crowd went ... well you get the gist. Young women, for the most part under-dressed for the weather, leaned on the stagefront barricades singing along to every word.
In 44 years of Jazz Fest, the screams for each Levine stage pivot sounded decibel record-breaking. He's this tween generation's version of what Shaun Cassidy was to me, so who can judge? I used to dream Cassidy's tour bus would break down in the middle of the Illinois prairie, he would stop for directions and we would hit it off. Maybe eventually get married. I was open to marriage.
These days I'm a Jimmy Cliff girl, because who can resist the bass lines? So we raced from Maroon 5 to the Congo Square stage where Cliff was hugging himself at song's end. It felt like a hug radiating back to the audience. He then launched into: Wild World throwing his arms out and his head back to absorb love from the crowd. Cliff alternately spun in joyful circles and danced across the stage. It's a different athleticism from Levine's, but no less engaging.
Willie Nelson was one more stop down the track at the Gentilly Stage. From You Were Always On My Mind to Angel Flying Too Close To the Sun, what he lacks in jumping around he makes up for in lyrics that are as swoon-worthy as anything in the pantheon of modern love songs. Listeners swayed to Nelson, 80, whose performing is still sway-worthy. He also won the audience engagement award for simply not wanting to wrap up the show. As cold as the day had grown, a rousing Roll Me Up and Smoke Me When I Die followed by I Saw the Light wound down his set as dusk settled.
My husband and I were rounding the track for home when a shriek went up near Maroon 5's backstage area. A crowd of 'tweens had gathered outside the barricades to watch the band's transport pass, and someone had spotted Levine getting into an SUV. You couldn't tell which SUV had which band member, but one young fan picked the likeliest Levine wheels and went for it. Chasing it past the artist's entrance, she started to lose sight of the car at Mystery Street and shouted to her lagging friend: "RUN!!"
And so it goes.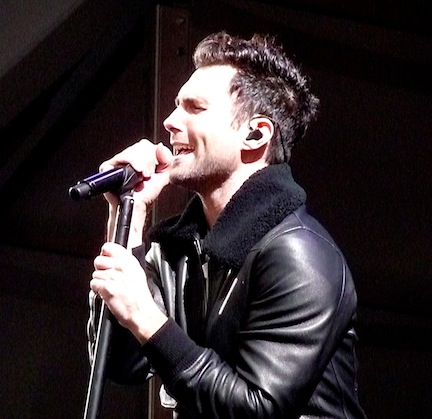 Adam Levine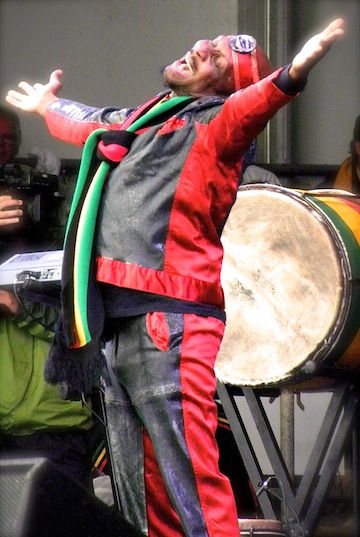 Jimmy Cliff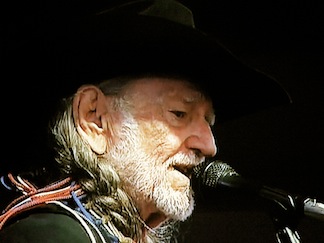 Willie Nelson
Photos by Jeff Beninato