One of my favorite writers, musically and otherwise, Peter Holsapple has published an insider's dissection of the dB's "Love is for Lovers" in the New York Times' Measure for Measure column, complete with a link to the song.
For alt rock background, my husband Jeff joined the band based on hearing a cassette version of that song in the Subaru station wagon of the band's then-manager.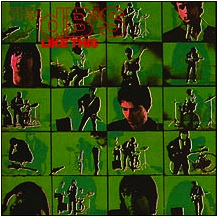 Post-Hurricane Katrina, Peter is back in North Carolina but I miss his New Orleans gigs from the Circle Bar to Carrolton Station, back when everyone we wanted to see was just up the street. The dB's were kind enough to record a benefit track of "What Becomes of the Brokenhearted" for the New Orleans Musicians Relief Fund weeks after the storm hit and Peter, still at the top of his game, made the song his own.
Here's the intro to his Measure for Measure post:

Anatomy of a Flop

By Peter Holsapple

"It's such an honor to be writing here among the likes of (to name but two) Rosanne Cash and Suzanne Vega: songwriters I've admired for years. Their entries in this blog are some fine writing -- not surprising, considering the high level of their songwriting. They have Grammy awards and platinum records between them. Who wouldn't be thrilled to be in such company?

So . . . what's my deal? I have never had a hit in my life.

Once upon a time, though, I think I wrote a hit. It was called "Love is for Lovers" and the dB's recorded it for an album called Like This in 1984. It had (and has, I believe) an undeniable hook, the kind you'd find yourself singing in the shower or pounding along to on your steering wheel while driving. The performance, produced by Chris Butler at the old Bearsville Studio in upstate New York, has all the power of the best kind of rock: slamming drums, inventive bass, a solid riff and a fantastic solo."
Continued HERE.