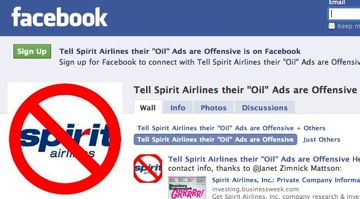 When it comes to marketing with oil spill jokes, if the question is "Too soon?" I would advise Spirit Airlines that the answer is yes.
Two more workers from the Deepwater Horizon recovery have died. The riser cap is off because of a robot-damaged vent and oil is flowing freely into the ocean. Gulf Coast seafood and hospitality industries are in a freefall. So there is nothing funny about a campaign tagged, "Check out the oil on our beaches - San Juan, Puerto Rico." The oil refers to suntan oil on a bikini clad woman, not to oil spewing out of the ocean floor. Badabing.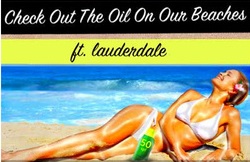 To clarify, Gulf Coast residents are not without humor. We had dinner with friends in Belle Chasse last night wiped out a tray of crawfish and shrimp (yes, Gulf shrimp - it was delicious) as they described a "Save the Endangered Gulf Walrus" campaign referencing BP's ill-informed advance response plan for the Gulf of Mexico. The humor doesn't always translate, last week I reported on a local marketing campaign - the city's "This Isn't the First Time New Orleans Survived the British" ad referencing the Battle of New Orleans was promptly pulled after outrage from the British whose tourism is crucial to the New Orleans hospitality industry.
But that campaign is not in the same time zone of tone deaf as an email blast of bikini clad women inviting travelers to take advantage of airline discounts because all they have is suntan oil on their beaches. Which campaigns did they reject? "Check Out Our Beaches: They're Not Bracing for More Oil as a Containment Cap Comes off to Check for Potential Hydrates?"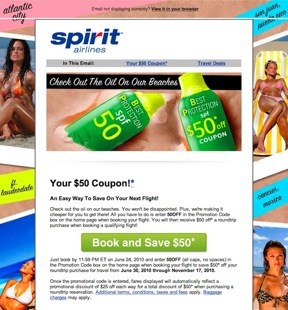 "It is unfortunate that some have misunderstood our intention with today's beach promotion. We are merely addressing the false perception that we have oil on our beaches, and we are encouraging customers to support Florida and our other beach destinations by continuing to travel to these vacation hot spots," is Spirit Airline's statement. But the ad is not misunderstood and no one thinks Atlantic City, Cancun or San Juan have oil approaching their beaches. The ad is so well understood that locally a Facebook group and nationally USA Today are running appalled responses. And still @SpiritAirlines astoundingly stands by its Tweet of, "Check out the oil on our beaches. You'll love it. Plus, we're making it cheaper to get there with a $50 coupon!* http://bit.ly/ccQySt"
If a "come for the discounts, stay for the inappropriate oil spill humor" vacation does not appeal, you can book a summer vacation in Seaside, Destin, Gulf Shores, Panama City, Orange Beach, Pensacola, Navarre, Seaside, Seacrest, Blue Mountain, Fort Walton, Gulfport, Pass Christian, Bay St. Louis, Biloxi, or points between. Take a vacation and you'll be a hero for helping keep the Gulf Coast hospitality industry alive. And if you're a citizen journalist, take a side trip to Grand Isle.
Check out the oil on our beaches.
My Full Post at: NewOrleans.com