Singer, songwriter and author Rosanne Cash was kind enough to share how it felt attending yesterday's groundbreaking of Arkansas State University's Johnny Cash Boyhood Home Restoration Project on what would have been her father's 80th birthday.
KB: Attending the groundbreaking on ASU's Boyhood Home Restoration Project for your father on his 80th birthday, how did the spirit feel?
RC: "Jubilant. Such a thrilling project for my whole family and it was quite an emotional high. I didn't want to feel sad on his birthday. Even though there was poignancy, and a sense of missing him, it was celebratory. He would have loved this project."
KB: The Johnny Cash Museum will also have workshops, and a scholarship fund. What do you think your father would have thought of that legacy?
RC: I got an honorary doctorate from Memphis College of Art and you would have thought I'd gotten a ph.D from Harvard, according to my dad. He was passionate about education, and was an autodidact. The scholarships and outreach would have been immensely important to him."
KB: This restored family home will give Johnny Cash fans a special place to make a pilgrimage. What has the reaction been in Dyess, Arkansas?
RC: "Dyess is over the moon. That little corner of Arkansas is receiving much needed attention. Not only for the connection to my dad but The whole area is rich with musical history -- plus Dyess Colony was a WPA program founded in the New Deal. A huge part of American history."
KB: You missed Leonard Cohen and Chuck Berry's PEN Hall of Fame induction and tweeted: "Family wins." I love that. Any other message to fans?
RC: "I was proud to be in the panel for PEN, but family won out that day, which is as it should be."
KB: After a visit to Muscle Shoals, you and Mr. L. are hosting more of AOL The Boot's living Room Concert series. What are some favorite Twitter song requests?
RC:"Sea Of Heartbreak" "The Wheel" and "Seven Year Ache."
You can hear these songs and more all week on Live From Zone C (video below), filmed in Cash and her husband John Leventhal's living room. All tunes from the recently released The Essential Rosanne Cash were requested by her Twitter followers and air exclusively on AOL's The Boot. "House on The Lake," the most popular request, was written by Cash and Leventhal and is a fitting birthday tribute to family.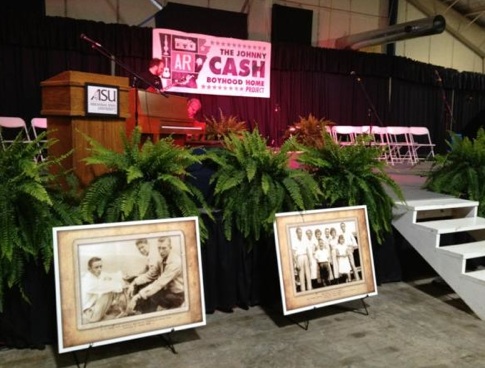 (Photo courtesy of Rosanne Cash)