From the tropics of New Orleans, I missed the changing seasons until visiting family each year and freezing my ass off. That said, the Midwest is beautiful at the holidays, and here are a dozen photos of life in exile to prove it.
Speaking of exile, tomorrow Brad Pitt kicks off the Make It Right campaign for New Orleans. Pink is the new Green, as Make it Right has giant pink objects as placeholders for 150 new homes coming up in the Lower 9.
Thanks to the Clinton Global Initiative, Steve Bing and sometime New Orleans residents Pitt and Angelina Jolie, the homes will be built for former residents coming home. A nightly driving tour of the pink parkway will be lit up in the pattern of constellations as they shone on 8/29 as a tribute to those lost to Katrina. With solar powered lights, of course.
Only in New Orleans. Pitt's a Midwest boy and would understand that you may be evacuated to a flyover state if:
The frost on your window looks like more an impressionist painting the longer you stare at it.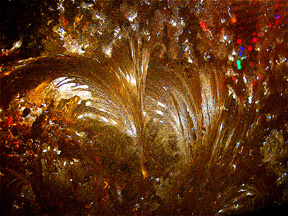 It's 20 degrees out and the bagpipers are still wearing skirts: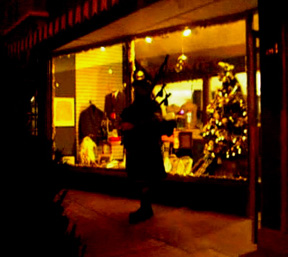 There is no department store downtown, so Santa hangs out in shop windows: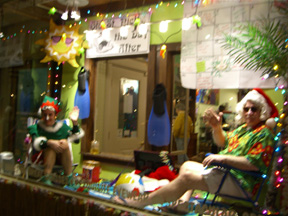 It's Free Carriage Ride Day. Also Make Your Own Gingerbread Night at the local diner: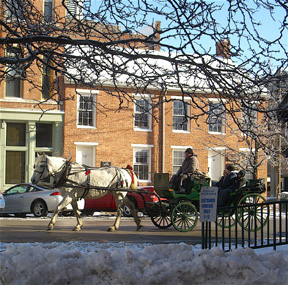 The Abominable Snowman attacks your gingerbread house: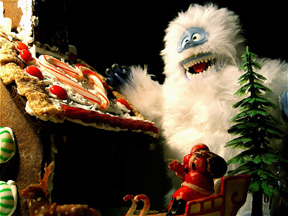 Icicles dangle ominously over your head. The elements are still scary: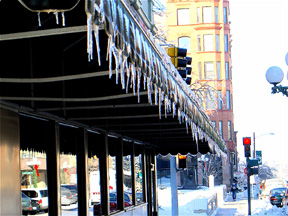 The Courthouse across the street is lit up behind ice crystal branches: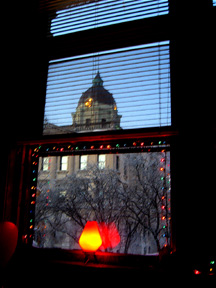 Beginning sledders are bundled like spare tires and occasionally roll down the hill: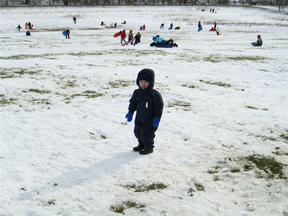 If you can get out of the driveway, every evergreen looks like a Christmas Tree: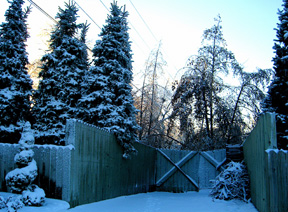 You go to Springfield on business and end up at Lincoln's house to check out the decor: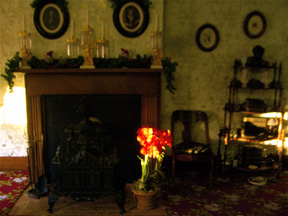 Your peace sign windows are finally ready - the locals are too polite to mention them: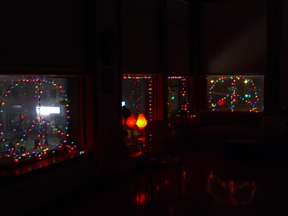 And your husband illustrates a sad-but-true NOMRF Benefit Holiday Card.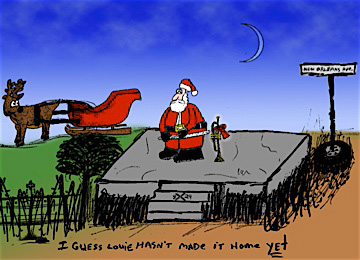 After this visual tour of the flyover states, please consider warming up in New Orleans for the best live local music around (no offense to chilly bagpipe guy). Tourism is one of the most important components helping the artists who have made it home able to stay there.
Then holiday shop in the brand new Jax Brewery Saving NOLA Now Store with proceeds going to the following nonprofits. I'm name dropping supporters in bold print because they've been a big part of bringing New Orleans back after the levees failed:
Habitat for Humanity Musicians Village (Harry Connick, Jr. and Branford Marsalis); Drew Dat (Quarterback Drew Brees), The New Orleans Musicians Relief Fund (Dr. John and REM - we heart Mike Mills); and Make it Right and Global Green (Brad Pitt and Angelina Jolie - as mentioned above). Public compassion would be even harder to scare up without them.
Happy and safe holidays to you and yours from me and mine.
(Like a techno-dork, I somehow managed to block my own comments, so please insert your own warm reply to any and all posts.)