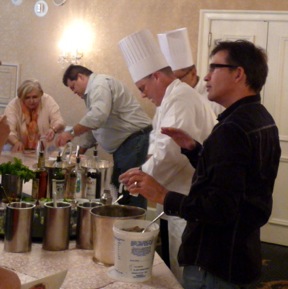 P&J Oysters, the nation's oldest continually operating dealer of oysters, is no longer shucking Gulf Coast oysters after the oil spill tainted too many of their suppliers' beds. The fact that this is New Orleans seafood week adds an unbearably ironic twist to the shuttering of a family business and local institution.
In the mid 1800's, John Popich's family immigrated from a Mediterranean fishing community to the Gulf of Mexico and over the last 134 years his family became a leader in the oyster industry, advocating for Gulf seafood.
This spring I heard P&J's Sal Sunseri (pictured at right) speak at the "Shucking and Jiving with Oysters" panel during "The Tennessee Williams Festival Celebrates the Best of the Bivalves," and he was an enthusiastic evangelist for the quality of fresh Gulf Coast oysters.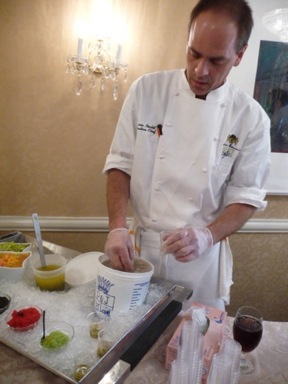 Sunseri along with P&J Oyster Cookbook author Kit Wohl; Darin Nesbit of Dickie Brennan's Palace Cafe; Peter Page of the Royal Sonesta; and executive chef Robert Barker talked oysters before they concocted their own recipes for the crowd. The prospect of a P&J Bloody Mary oyster shooter brought me to the panel.
"It's all about our past," Sunsari said describing the history of Gulf Coast oysters beds. He described the traditions of French, Spanish, Sicilian, Acadian, Cajun and more recently Vietnamese fishermen who all brought something unique to the local seafood cuisine.
What distinguishes Gulf Coast seafood from all others? "It's the quality of what we do here," Sunsari said. After the panel concluded, we headed from the Royal Sonesta balcony into a room where oyster shooters were served in all their glory.
This is a terrible post to have to write. I've wrestled with it for days and I am left with the memory of that beautiful spring day listening to local chefs and the head of a Gulf Coast seafood empire describe the product that they loved, knowing we were headed in soon for fresh oyster shooters.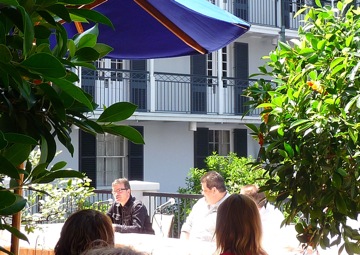 In a million years, I would not have expected the end of P&J Oyster Company's local operations by the summer.
In a million years, none of us could have expected any of this.
Bloody Mary Oyster Shooter recipe from Kit Wohl's P&J Oyster Cookbook posted at NewOrleans.com. Her book is in stock on Amazon and in most New Orleans bookstores.