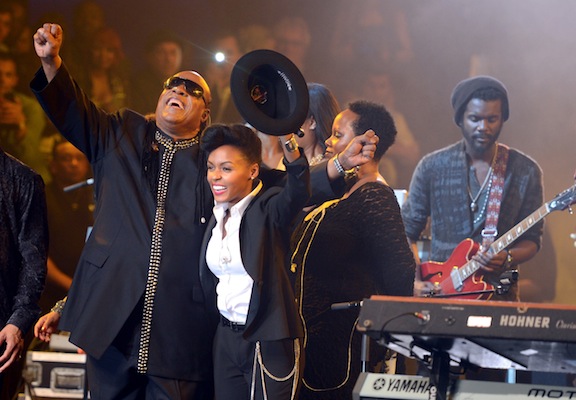 Stevie Wonder, Janelle Monáe and Gary Clark Jr. (far right) perform onstage at Bud Light Presents Stevie Wonder and Gary Clark Jr. at the Bud Light Hotel (photo by Stephen Lovekin/Getty Images for Bud Light)
Stevie Wonder at the top of his game singing Ribbon in the Sky to his newly engaged daughter, backup singer Aisha Morris, then grilling her fiance about his intentions made the Bud Light Hotel concert Super Bowl eve a tough moment to top. This was the same Aisha cooing in Isn't She Lovely, and Stevie told the band that once Aisha had her own babies they would all be aunts and uncles. It was moment in a week of big moments for New Orleans.
As soon as Wonder left the stage with surprise guest Janelle Monáe and opening act Gary Clark Jr. (he had called both up to play), half the crowd slipped into the dissonant drone of Seven Nation Army. The other half (49ers) is getting tired of that song. Jack White's anthemic hum has been heard floating through the Verizon Super Bowl Boulevard fest at the riverfront; in and out of CBS Super Bowl Park in Jackson Square, and coming off balconies along Bourbon Street. In this midst of all this are celebrities Tweeting photos of each other in hotel lobbies across the French Quarter. Paul McCartney and David Arquette win for most pop-up appearances at back to back invitation-only parties. Celebrity bashes faced off with Justin Timberlake's concert featuring guest Jay-Z for DirecTV; Lil Wayne blowing the roof off of the GQ Lacoste Mercedes-Benz party; Jamie Foxx and Jennifer Hudson performed at the Samsung Galaxy Shangri-L" Party; and Cee-Lo and Goodie Mob for ESPN. And that was just this weekend. Social media, celebrity cameos, corporate branding and Seven Nation Army are the overriding themes of Super Bowl week in New Orleans.
Sometimes the branding comes right at you. While walking (very) briefly down Bourbon Street under the Pistachio team's balcony, a drink sailed past my head along with bags branded Show Us Your Nuts. Miraculously, I avoid being splattered Gangham Style. Making it down a block of Bourbon Street unsoaked was a highlight of the week. Another was having good friend Micah McKee's CD released right in the middle of all the Frenchmen Street madness. Last night he reported that Lou Ferrigno was holding court on Frenchmen. You're likely to see anyone as the Super Bowl madness accelerates.
Philanthropy has been another big Super Bowl week tie-in. John Paul DeJoria opened his Patrón Tequila Express, formerly Franklin Delano Roosevelt's private rail car, to host a celebration of five years of partnership with the St. Bernard Project, whose founders are still building homes for returning Louisiana residents seven years post-Katrina. Saints quarterback Drew Brees hosted a benefit for Hurricane Sandy survivors at the House of Blues. Willie Roaf's Big Easy Super Lounge at the historic U.S. Mint helped raise funds for Pontchartrain Park Youth Athletes and the New Orleans Association of Black Journalists. There was as much New Orleans fund-raising as there were national articles reflecting on Hurricane Katrina through the lens of this year's Super Bowl. And there have been a lot of those.
Now the Super Bowl is upon us at last, and in just over a week Mardi Gras will fill the same balconies. For anyone riding out the party straight through to Carnival here's one last tip from a local: Life is exploding around you. Enjoy it and watch your step.
PHOTO GALLERY
The Wonder Of It All: Super Bowl Runup in New Orleans