Note: Do not read on if you have not seen Season 11, Episode 24 of ABC's Grey's Anatomy, titled "Time Stops."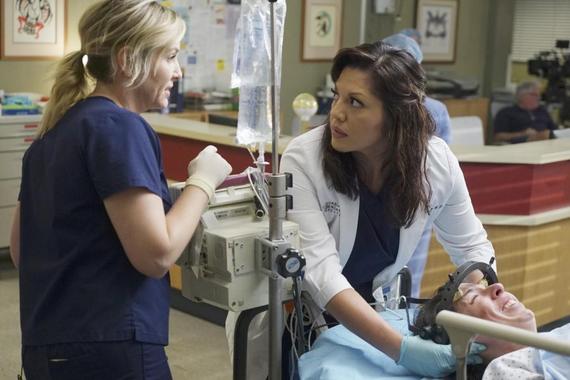 Tonight's the season finale and I'm nervous. Last week's tunnel emergency turned out to be another trick: Just keeping things moving and exciting after Derek's death. Amelia and Meredith's fight was a little anticlimatic, though I have to say I hadn't really considered the fact that Meredith acted too fast with Derek. Reasonable doctors, reasonable calls.
That said, anything can happen tonight. How worried are we? Let's take a look:
"I'm ready for Grey's Anatomy" DONT LIE NOBODY WILL EVER BE READY FOR A GREY'S ANATOMY SEASON FINALE OK

— fran (@pompskatic) May 14, 2015
Nothing scares me more than Grey's Anatomy season finale.

— fran (@pompskatic) May 14, 2015
the grey's anatomy season finale makes my heart hurt

— LoRo ✨ (@LorenAshlie_63) May 3, 2015
I am not ready for the Grey's finale tonight.

— Jessica Shuster (@JessicaShuster) May 14, 2015
I feel oddly calm for the Grey's finale tonight. I guess b/c they can't break up Calzona. & I'm not getting a death vibe for either.

— Marianne (@mak62184) May 14, 2015
I wanna see grey's next episode but at the same time I don't wanna see the season finale do u see my problem

— bea (@we_love_Greys) May 12, 2015
It's never easy. Tweet with me @karenfratti.
Grey's Anatomy airs Thursdays at 8 p.m. ET on ABC.