Note: Do not read on if you have not seen Season 5, Episode 9 of FOXs "MasterChef," titled "Top 13 Compete."
Cue your movie trailer voice: the biggest, and most intimidating mystery box challenge. Ever.
Knives. Fancy Alaskan King Salmon. Gordon and Graham are cooking with them (Joe is just a restaurateur, so he'll be the judge of fanciness). I would have cheated and step by stepped the filleting with Gordon, but everyone was too busy getting cauliflower instead.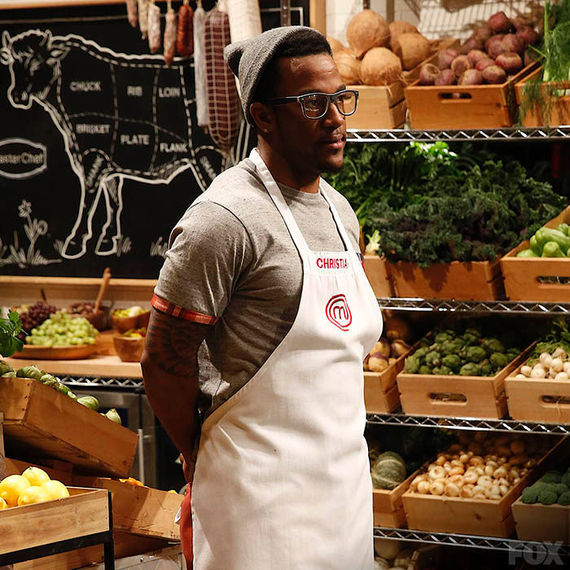 And then Elise has a panic attack. It really is the most intense mystery box challenge, ever, perhaps. She rallies and comes back to put something on the plate.
Courtney's called up and Elizabeth is a little salty: "They always call Courtney."
But Elizabeth, the "wow girl," according to Leslie, gets up there, too.
Christian was the only guy "with the balls to blacken a salmon," according to Gordon. And he's anointed King of the Kitchen for the night.
With a little tongue in cheek, the judges fill up grocery baskets and Christian has to decide what the chefs will have to cook with. They have to cook with Joe's pretentious wine-filled basket. Wine. Grana padano. Prosciutto. Aged balsamic. Chanterelle mushrooms. And then Christian gets to pick one person who has to cook in just thirty minutes. Of course, it's Courtney. She's a front runner who understands strategy. It doesn't seem so intense, because Italian the way Joe likes it can be done quickly.
Meanwhile, poor, poor Elise is giving up. Competition isn't for everyone and Gordon helps her even it out. We have other weird combos in the kitchen: Willie's tomato soup with an egg. Ahran's savory tiramisu. Cutter's nasty pizzas. Cutter: balsamic is not "black salad dressing." Courtney comes up with a pasta that Christian calls safe, but the judges are impressed with.
Gordon asks the chefs to sacrifice themselves: Elise offered herself up, as did Willie, but he was being polite. Cutter is up on the block, too. He is so stubborn and has such little technique, but Elise is the one to go. It's better for her health in the long run. I wanted to hug her, too.
My name's Gordon Ramsey, not Stevie Wonder. What were your favorite moments this week? Let me know @karenfratti or in the comments.
"MasterChef" airs Mondays at X8 p.m. ET on FOX.