Note: Do not read on if you have not seen Season 5, Episode 11 of FOX's "MasterChef," titled "Top 7 Compete."
I hate tag team challenges -- it gives me Leslie-like stress.
But we can start at the beginning. The contestants al get letters from home that make them cry and then they have to cook a savory apple dish. No sweets. Courtney, smug little thang, wins, though I was feeling Christian's stuffed chop.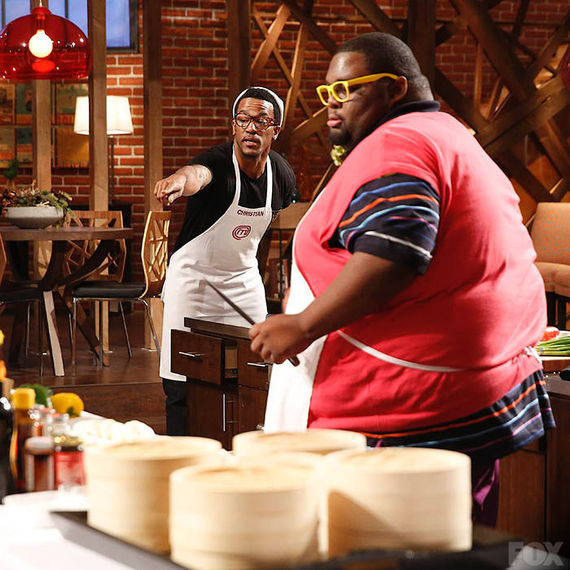 So, for the elimination challenge, Courtney is safe. She gets to pick the teams and she is harsh. Jaimie and Leslie. Elizabeth and Cutter. Misery ensues. They have to make dim sum in a tag team like set up. So everyone's yelling at each other. Willie and Christian are going at it Jaime can't stop whining. Courtney is just laughing.
Every time Gordon yells "switch!" my blood pressure rises. Willie even has a minute because it's loud and stressful. We are now watching people have panic attacks for fun. Guilty as charged.
Switch!
Elizabeth trips over herself and pops back up. People are barely able to steam their shumai. It's a mess and I'm waiting for someone to cry.
Jaime and Leslie: Looks good, tastes good, despite the bickering.
Willie and Christian: Good communication and usually good technique make it hard for the judges to believe how ugly and tasteless their dim sum is.
Elizabeth and Cutter: "It looks horrendous. Like canned dog food," says Gordon. Courtney set my girl up. Switch!
At the end of the day, it's Willie who has to leave. I know he's a fan fave, but I was starting to sense his time was up. You?
It's down to the wire, my foodie friends. Who are you rooting for? Let me know in the comments or @karenfratti.
'MasterChef' airs Mondays at 8 p.m. on FOX.