Note: Do not read on if you have not seen Season 5 Episode 3 of FOX's "MasterChef"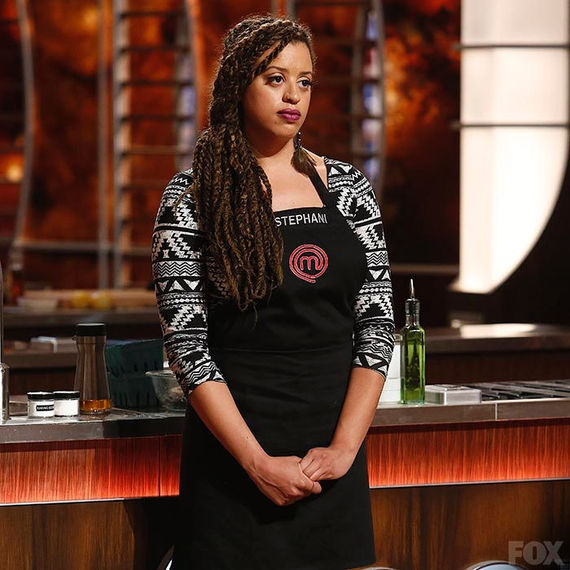 This week the first team challenge had the cooks out in the California desert cooking for 500 soldiers. Here are some highlights:
1) The Red Team, with last week's winner Francis B, Willie, Elizabeth and some of the other solid contenders choose to do a pork chop with macaroni and cheese. Lesson? Learn quickly from your mistakes. The mac looked like "mac and sh..." according to Gordon, so they switched to a cole slaw.
2) No one knows how to cook meat in a desert. First, the Blue Team is saved by Ramsey who notices that the chicken is coming off the grill raw. Then, the Red Team actually serves raw chops. Everyone knows you should butterfly those suckers.
3) Leslie is annoying, but often right. He is totally against chicken, which runs the risk of being too tough and just boring. Support the troops by giving them beef, thank you very much.
4) The Red Team's pork chop, once it was cooked, was apparently really good. Although they missed a bunch of plates when they had to recook the pork, they still won the challenge with 329 votes.
5) Courtney is a sore loser.
6) A lot of firsts. After the Team Challenge, they have their first pressure test. Red Team is safe and so are three members of the Blue Team. Team Captain, Daniel, saves Christian, Gordon, and Dan.
7) They have to cook a blueberry pie for the pressure test. Would you even know where to start? Daniel chose to go down with his ship, but even he admits that had he known it was pie, he would have skipped the challenge.
8) Jaimee has pie tattooed on her body, so her orange liquor blueberry tart is a stunner. Elise? You keep making pies and you didn't do a lattice crust. Just stop.
9) Jordon makes a sloppy crust and pisses Joe B off. Stephani adds too many pecans. Whereas Courtney and Leslie rock the judges' worlds. In a fluke, Daniel makes an ugly pie but it tastes delicious.
10) Stephani just couldn't cook her way out. She was also the one undercooking poultry for the soldiers. See ya!
What did you think of the competition? Do you think Leslie might end up winning this thing?
Let me know in the comments or @karenfratti.
"MasterChef" airs Monday at 8 p.m. ET on FOX.