Note: Do not read on if you have not seen Season 5, Episode 11 of FOX's "MasterChef," titled "Top 11 Compete."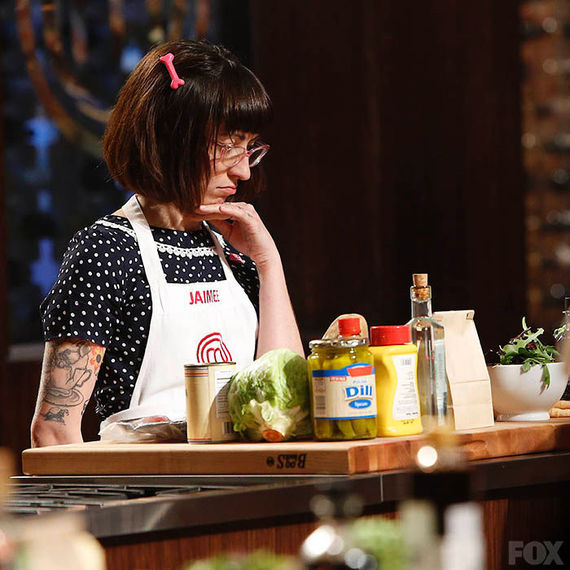 For this week's Mystery Box challenge, there's a fancy box and a cheap box. I would have totally chosen the cheap box, because there ain't nothing wrong with processed cheese dip. You ruin the Berkshire pork chop and you're in trouble with Joe. Isn't it funny how sad he gets when ingredients are wasted? Or unseasoned? Watching him rant about salt is the highlight of my week.
And the winner is? Leslie, which means we all have to listen to him. He gets to choose one of three filled pastas for the crew to cook (as well as a chance for the judges to wax philosophic on pasta dough and its uses). He chooses caramelle, the cutest little candy shaped pastas.
Leslie also singles Daniel out in the longest, excruciating minute of television I've ever watched. He has to use a rolling pin instead of a pasta machine and everyone is all gasps.
Then he turns out short rib "caramelle" that look like Chinese dumplings and a too-spicy curry sauce. Eek! My favorite has failed.
Jaimee makes a delicious riff on her dad's pork sauce and Joe likes it. If Joe likes your pasta, you're in.
Francis adds beet root to his pasta. Just a mess of garden veggies.
Cutter uses shortrib and a cream sauce and Gordon tells him he looks like a bulldog who swallowed a wasp.
Courtney goes classic with a pomodoro sauce that Joe calls simple and sexy.
Willie makes a dessert pasta. I have no idea what that even means. Gordon translates it to dog vomit.
The winner? Jaimee. Her and Courtney will be captains in the next team challenge, now, too. There were so many bad dishes it was depressing. Going home? Francis B. Willie is too much of a character and Daniel's tiff with Leslie make for semi-decent TV. The Scot never had a chance with his misplaced beet root.
What were your favorite moments this week? Who's next? Let me know @karenfratti or in the comments.
"MasterChef" airs Mondays at 8 p.m. ET on FOX.