NOTE: Do not read on if you have not seen Season 3, Episode 11 & 12 of FX's The Americans, titled "One Day in the Life of Anton Baklanov and "I Am Abassin Zadran."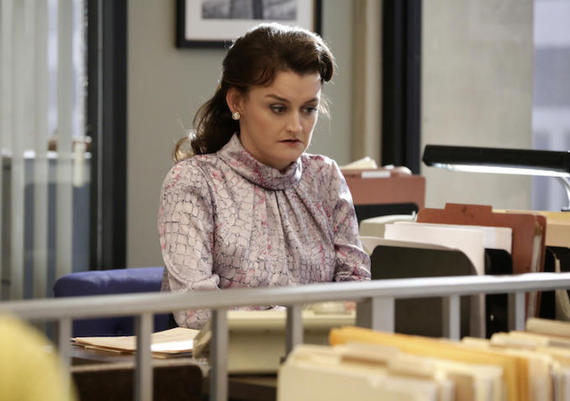 All I care about is Paige now, I can't help it. Well, also Henry. He's is just the cutest, dumbest little brother that ever lived, and I should know because I have one. But Paige! I love that Elizabeth hates her church so much. Best quote? "Potluck, poster making, sing-a-long" is the best description of church groups I have ever heard.
And then the tension. Granny's back. Stan is at Martha's. We are heading into a finale and the stakes are higher than ever before. Are we all having mini strokes every Wednesday? Here are some of my favorite freak outs:
My reaction as Stan was revealed to be hanging out in Martha's apartment and Phillip's on his way over. #TheAmericans pic.twitter.com/ihrm0lnWqh

— Lauren Bradshaw (@flickchickdc) April 16, 2015
My god, #TheAmericans is so good and if you're not watching, you are missing out. Loved the use of Ultravox's "Vienna" this week.

— Jace Lacob (@televisionary) April 16, 2015
Stan is in Martha's apt! I hope she doesn't have any pics of her "husband" out!!!!! #TheAmericans

— Takia Ballard (@takiaballard) April 16, 2015
#TheAmericans hey Stan you essentially just said all of it but whatever season 4 is coming

— hk (@shmilary) April 16, 2015
What if Stan finally catches Philip then Elizabeth runs off to New York City and #TheAmericans is just a prequel to Felicity

— Khier Casino (@KhierRoyale) April 16, 2015
Stan?! No! Leave that apartment. Now. Please. #theamericans #fx

— Chelsey Richter (@ChelseyRichter) April 16, 2015
I do hope they don't kill Martha because they think she tattled. Next week is the finale and I don't know if I'll breathe during it all. But never fear, they're already working on next year:
Season 4 writers room - day one. #TheAmericans :-) pic.twitter.com/qVK3gG4jJG

— Joel Fields (@joel_fields) April 14, 2015
What are your finale predictions? Tweet them at me @karenfratti.
The Americans airs Wednesdays at 10 p.m. ET on FX.