NOTE: Do not read on if you have not seen Season 3, Episode 2, of FX's The Americans, titled "Baggage."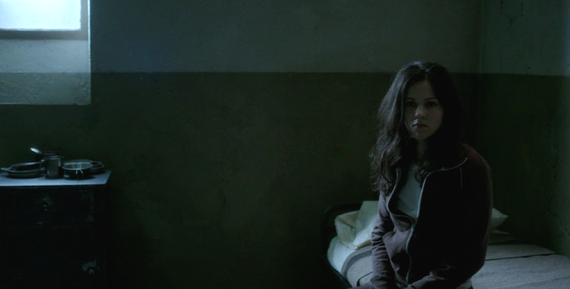 Apart from the fact that this was one of those episodes that makes me want to buy a new TV because it's so dark, my obsession with this show continues to grow.
"You Guys Look Out for Each Other More Than Us"
Paige and Elizabeth have a weird mother-daughter moment in the kitchen. She asks her mom if she worries that Philip is always working late, that he might be having an affair. Of course he's not (although he sometimes is). Paige remarks that the two look out for each other and are good teammates, and that it feels like they care more about each other then they do their kids. Again, true and not true all at the same time.
Breaking Down the Bodies
Gross. Gross. Gross. I would rather watch someone with a chainsaw, at least. Just when I thought they were going to sexualize Annalise all naked, they just crack her in half. What the Jenningses do is real, and scary. I'm into it. I'm glad it makes Philip cringe, too, as he brings it up again when they fight about letting Paige in on their spy games.
Nina
Is gorgeous even when she's peeing in the corner of a dingy Russian prison cell. What the hell? She has a cellmate, at least.
Oleg is trying to avenge her capture by threatening Beeman, who wants to save Nina. Stan has nothing left to lose anymore, and taunting Oleg seems to be sort of fun for him.
The Lady in the Box
There has to be a better way to travel.
Are you enjoying the season so far? Tweet me @karenfratti.
The Americans airs Wednesdays at 10 p.m. ET on FX.