Note: Do not read on if you have not seen Season 6, Episode 6 of CBS's The Good Wife, titled "Old Spice."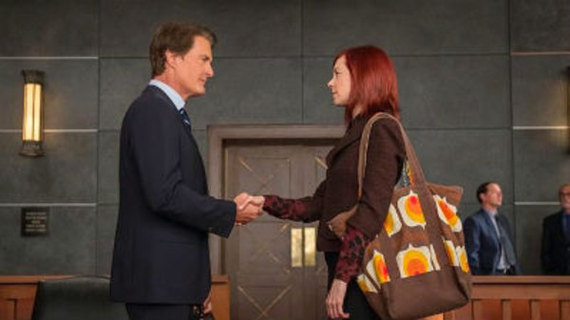 A lot of people really liked this episode, especially after last week's installment. But I don't know about this. I mentioned last week that the return of Carrie Preston is welcome, but the absurdity is a little too much. I like when "The Good Wife" is subtly hysterical. Having Preston and Kyle MacLachlan (whom will always be Trey to me, by the way) be so in lust with each other was a tad much. Although bonus points for the costuming: Preston's balloon armed button down was a nice touch. She reminded me of the cover of a romance novel. Buttons, "Call Me Maybe," and the morning after scene on her desk was cute. But I need a break. I know we need to make up for the lost drama and attraction of Will, so I'll allow it, for now.
Another pawn in filling Will's void is Eli's daughter, whom I adore. She's young, snarky, and smart and the contrast between her cynical self and Alicia's own daughter Grace is something I hope they can play with. Alicia's "bodywoman" is the perfect role for her.
The campaign is already a problem -- notice that Alicia didn't even realize Cary had been arrested because she was overwhelmed with figuring out how to own her atheism? And Cary and Kalinda having to stay apart? Can we just fast forward to his trial already? I want to punch his pre-trial counselor; isn't it perfectly acceptable to get blitzed at a networking party in the middle of the work week? His taste in women needs some work, though. That woman had to be a plant because I don't think Harvard types wear necklines like that. But I digress.
What do you think? Are you jonesing for more awkward lust from Preston and MacLachlan or are you done with it, too? Let me know @karenfratti.
The Good Wife airs Sundays at 9 p.m. ET on CBS.