Note: Do not read on if you have not seen Season 6, Episode 5 of CBS's The Good Wife, titled "Shiny Objects."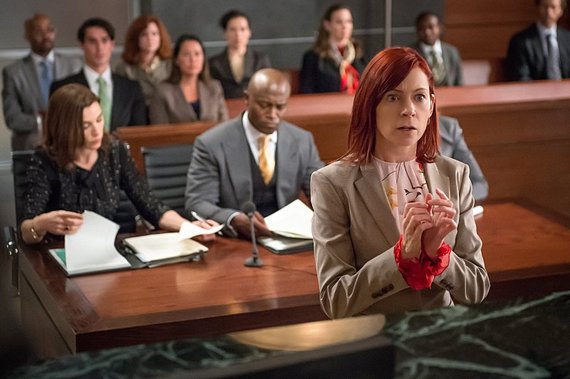 Oh, The Good Wife, how do I love thee? Let me count the ways:
1) CARRIE PRESTON! If Elsbeth Tascioni could be in every episode, it would be too much, but this show is the best at working in really amazing guest characters that become staples. It makes it more like the real world, where you run into colleagues and friends and foes randomly. It's recurring characters like these that make the show realistic, even more than the cases that resemble current IRL headlines (like the pseudo Jill Abramsom/Sheryl Sandberg on trial this week).
2) Cary's jealous. Dude, your sex buddy is bisexual and you have to deal with that. With the announcement of Kalinda's departure this week, I'm missing her already. I love Kalinda, but I have a beef with her sexuality. I don't like how she has to be so cold to be so sexual. Isn't there a middle ground? Get Agos a "Savage Lovecast" subscription stat. Also, can she and Alicia be friends again before she goes?
3) What do we all think about Diane? I just realized this week that I've been watching her all this time and we only sometimes see her personality. I'm glad it was her that clicked that silly link -- who would do that? Only an old person! She's dating a gun nut Republican, she's sort of crotchety. I suppose it's OK if they move back to the LG offices, but it seems more like a plot device to get to use the old sets more on the production side. If you want to work at Florrick Agos, you have to deal with construction and the dirty guy in the bathroom. Same goes for David Lee. "It's a copy of the email, David, the paper doesn't matter." Har, har!
4) Peter and Alicia having it out in that hallway. He wants her to let it go, she wants his respect. And she gets it, kind of. How long have we been waiting for Peter to yell at her like that? Let it go!
How much do you love it? Let me know @karenfratti.
The Good Wife airs Sundays at 9 p.m. ET on CBS.