Note: Do not read on if you have not seen Season 6, Episode 12 of CBS's The Good Wife, titled "The Debate."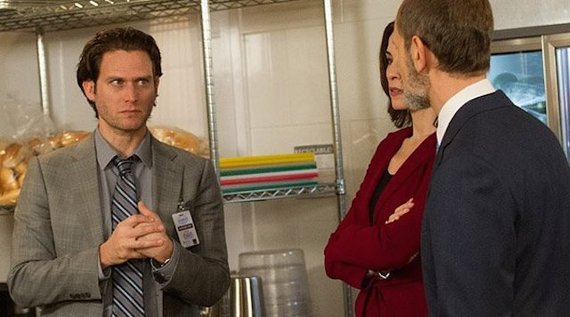 Yuck. I don't think anyone was feeling this week's episode, which included a plot line based on the protests in Ferguson (and everywhere, really) after police weren't indicted for shooting Michael Brown or choking Eric Garner.
It was also the episode where Alicia's finally in a debate and the firm loses the faux Google client because of David Lee.
Usually, when a plot uses real-life events for inspiration, it works on The Good Wife. But everything hit a wrong note with the Ferguson plot. Like that conversation between Eli and his black colleague. That was actually pretty real. You don't get conversations like that on network TV very often, but there was something forced about it. Like everyone's reaction to the phrase "race riot," or bickering over whether cops should be in riot gear. Is this just a case of "too soon?" Comedy equals tragedy plus time. Maybe we need some more space before Eli's latent racism can be a plot point. It's all just too gross to dramatize. The real events are bad enough.
Otherwise, it was nice to see Alicia snap at the press (finally!) for making her marriage an issue. What about her weird "I do not have feelings for you" talk with her handler? If she were Peter, it would be sexual harassment.
What did you think about the Ferguson treatment? Tweet me @karenfratti.
The Good Wife airs Sundays at 9 p.m. ET on CBS.