Note: Do not read on if you have not seen Season 6, Episode 4 of CBS's The Good Wife, titled "Oppo Research."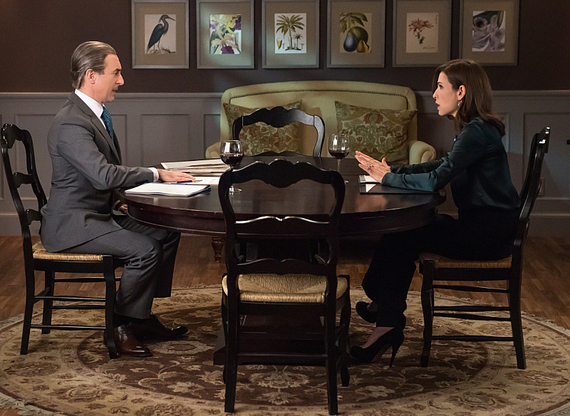 What is Oppo Research, you ask? It's all the dirty, nasty things an opponent will dig up on you to sue against you in a campaign, as poor, saint Alicia finds out this week. This week there was no case, just Alicia deciding whether or not to run for State's Attorney and the fall out. How much did I love this? Let me count the ways:
1) Alicia loves wine. Like, really, really loves wine. I don't know how the parody of "Talking Dead" fit in ("what does it mean?") but watching her anxiety build, decide to pour a glass of vino and then decide against it, and then the way her face falls when Eli doesn't want any wine when he walks in was beautiful. It was so simple, but fed the tension of the whole episode.
2) The Florricks are bound by secrets, from the day we met them all those years ago. Instead of focusing on her and Cary and the firm, or her love affair with Will (sigh), we return early on in the season to the family. It's all about the family. Instead of taking an easy shot and using Grace's religion or sing-song parties, the oppositional research got real, really fast. Zack and his girl had an abortion and Alicia's rage looked a lot like what my mom's would've been. Cut him off! Peter might be sleeping with an intern, but he's not. Her brother is having an affair with a married man (did he walk out because he didn't know or just hates politics?). And her mother, always good for comic relief, is spanking random children in department stores. It could not be more perfect.
3) Now for the bad news. She has to drop Bishop. He refuses to go, until he realizes she's running a campaign. Trying to fool him into leaving the firm because of a conflict of interest didn't work. He's now running a Super PAC that's raising hundreds of thousands of dollars in 24-hours for the campaign. There was no scandal except her brother's love life and her son's teenage antics. Now there's real dirt Castro can dig up. And let's not think he won't. In line with the wine-loving opening scene, he sets her up to be pulled over by the police, who give themselves away immediately. Shouldn't Chicago cops be better at being corrupted? How can we document this?
Her new, reluctant campaign manager says she needs more reasons to run than just "the current administration is doing a bad job and is corrupt." But Castro's actions alone are nasty enough, I think. How does she get rid of Bishop and avoid falling into the same pay-to-play protocol? This show really gets the law and love, but more than anything, in my humble opinion, I think the portrayal of how politics really works -- within closed bubbles and cliques, with binders full of your faults, and favors -- is better than anything else on primetime.
What about you? Let me know @karenfratti.
The Good Wife airs Sundays at 9 p.m. ET on CBS.