Note: Do not read on if you have not seen Season 1, Episode 3 of HBO's The Leftovers, titled "Two Boats and a Helicopter."
Are you interested now, or what?
This week, we found out that it's not just the sad story of a police chief and missing wives. It's much, much better.
We follow Matt, the town's Reverend. Here's what we learn about him: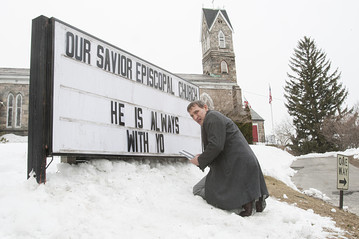 1) He's kind, but everyone has given up on church since October. He's hopeful though: he thinks his prayers and baptisms mean an upswing, even though his congregation is about three strong.
2) He's horrible: he prints a newsletter, or a flyer, for every departed person who was "bad." He gets punched a lot for this.
3) His sister is Nora, the woman we followed last week with Jill, whose whole family is gone. After opening with a bit about their sibling rivalry, it gets darker when he asks her for cash to save his mortgage. He tells her that her husband was departed because he was having an affair with the children's preschool teacher. Were the kids departed because they were complicit? Really?
4) His wife suffered a brain injury on the 14th -- she didn't die, but she's not really alive either. Two of the most emotional scenes are him sobbing at her bedside and then realizing how large his ego is when he carries her on the 14th. He's asking for help for his wife when everyone else is wondering where their loved ones went.
5) So he follows the birds. His church is going to be bought and he has 24 hours to find $135,000. He uses money buried in Kevin's backyard (the schizophrenic father left it for the Reverend, after outing a corrupt judge) and gambles. He wins, he beats a man probably to death to save it. He's almost free when he catches two members of the Guilty Remnants being attacked. When he goes to help, he's knocked out for three days. hallucinating about good and evil. He loses his church and it turns out that the GR has bought it, in cash. Tough luck.
Which raises three themes I can't wait to talk about:
1) Who are we rooting for? None of the protagonists seem very reliable. And those that could be antagonists -- Patty, for example, or Willie, or Matt even, aren't very convincing themselves.
2) The birds, Laurie on the swing, the kid with the rock, the talking mural: red herrings or what?
The show has been laden with these other worldly "sign" type things. Like the guy shooting dogs. Do you feel as creeped out as me?
3) WHAT HAPPENED ON OCTOBER 14th?
I'm dying over here. Catch anything good or have a strong opinion? Please let me know in the comments or tweet me @karenfratti.
"The Leftovers" airs Sunday at 10 p.m. ET on HBO.