Note: Do not read on if you have not seen Season 1, Episode 5 of HBO's The Leftovers, titled "Gladys."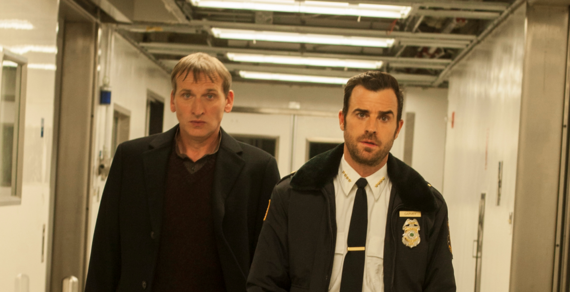 Sticks and stones, well, just stones, are the focus tonight because Gladys -- the hefty blonde Guilty Remnant member -- was kidnapped and stoned to death in the woods while everyone was out ganking family photos and white button downs.
Seriously, it was violent and horrible to watch, a good reminder that this shows has chutzpah. This sets into motion a few things:
Laurie has a panic attack. And then is taken out for a vacation from the GR. She gets a non-smoking hotel room, a shower all to herself, and a chance to talk over a diner breakfast. She doesn't break her seal, though I wanted her to. The boss isn't just being nice, she's trying to gauge her level of doubt and what her deal is. She ends up chasing the minister's effort at a memorial away. Their whole purpose is not to feel. No music, no words, no memories.
The town calls a special meeting to put out a curfew -- if only every town could be so organized. What is this, Bon Temps?
Not organized? Law enforcement. Someone calls the ATF and Kevin goes into Law and Order style jurisdiction war. But ATF guy doesn't care about the case, instead, he offers to raid the whole compound and eliminate the problem. Kevin says 'thanks but no thanks', but you have a feeling that could always change. The mayor wanted him to be sure his family tie wouldn't get in the way, and it just did. Then he gets drunk and strong arms the dry cleaner.
A lot of setting up here -- Kevin is completely powerless. He can't control his wife, his daughter or his cop buddies. He can't find his son, turn off his house alarm, or get his shirts clean. Even the minister has some upper zen-like hand on him. He needs to hook up with Nora and quickly.
And it's officially war in town between the citizens and the Guilty Remnants. The ATF incinerates Gladys, her silence officially and obviously burning her up inside.
What did you think of this week's episode? What's Jill and her friend's deal? Did you pick up your dry cleaning this week?
Let me know @karenfratti or in the comments.
"The Leftovers" airs Sundays at 10 p.m. ET on HBO.