Note: Do not read on if you haven't seen Season 5, Episode 16 and 17 of FOX's "MasterChef" titled "Top 5 and Top 4 Compete."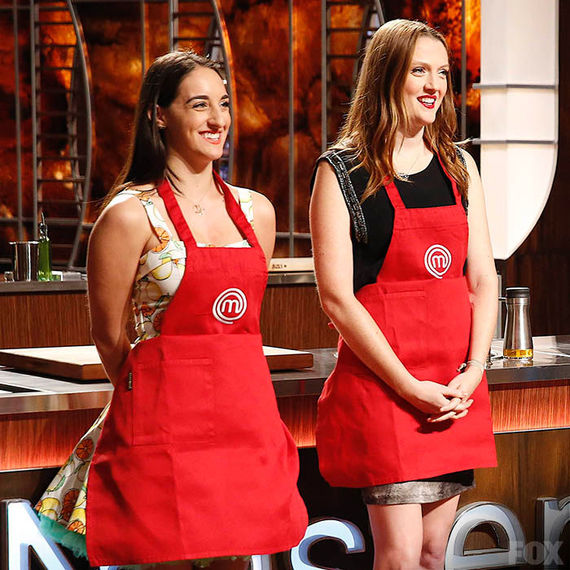 Families and bull balls make for an interesting challenge this week. First, everyone gets a loved one to show up -- Christian's fiance, Leslie's wife, Courtney's little bro. And they have to make a fancy version of their favorite home dishes. Courtney made a creamy lobster mac and cheese for her little pup of a brother. Christian, a stellar seafood gumbo; Leslie worked with a rack of lamb and Cutter made his dad some grilled fish. In any case, Elizabeth wins with meatballs and cheesy grits. Because how can that ever be bad?
So she gets to pick for the elimination challenge. And what a challenge -- cooking with all the nasty bits. Veal brain for Christian, ox heart for Cutter, tongue for Leslie, and Courtney gets bull testicles. Make it work, guys!
Needless to say, everyone is flipping out and slamming the appropriate amount of pots around. Do you know how to cook a testicle? What kind of sauce? Can you fry them? These are serious questions.
Christian makes a pasta that looks like the Olive Garden exploded and they ran out of cheese. It is the most uninspired and nasty looking dish I have ever seen. Who puts pasta in ice water?
Courtney makes a glam fried testicle over bright, braised veggies.
Leslie makes a dirty tongue with bok choy. It's never good when Joe lectures you about great cooks and small mistakes, shaking his head "it's not good." And then there's ox heart with poblanos and from Cutter, which Graham says is the nicest looking plate he's put up. It's southwestern and authentic and he cooked the heart correctly, with a nice little spice rub.
Christian's out. The gosh-darned pasta.
And then there were four. Each team are unlikely, reluctant pairs, and they have to pick a box with a typical "state" ingredient. So, the girls have PA and NY; the boys Texas and Cali. There's apps and entrees involved; this is is a horrible game. Cutter chops his finger off. That's how bad it is. Or wait, then Leslie puts fat in the red sauce and they can't reduce it. Elizabeth and Courtney are bickering and grating cheddar on trout. What the heck? I think is Gordon's reaction.
Leslie: "I never heard a word about a biscuit!" Elizabeth and Courtney are safe from the pressure test -- "by the skin of their teeth," in Courtney's words. So now Leslie and Cutter will fight to the death and name call each other, as they cook ingredients from the California box.
What's funny is that Courtney and Elizabeth are rooting for Cutter. They have chicken, sea urchin, yellowfin tuna, and sparkly veggies. And they have to replicate three dishes: risotto with the uni. Tuna nicoise salad with soft boiled quail's eggs, chicken teriyaki with forbidden rice. Exact replicas. It's out of control.
It's back and forth. But Cutter's manly hands have manhandled too much. So it's Leslie, Courtney, and Elizabeth. We'll miss that British bulldog who swallowed a wasp.
What did you think of the elimination dishes? Fair? Let me know @karenfratti.
"MasterChef" airs Mondays at 8 p.m. ET on FOX.