America's economic growth is driven by twin engines -- the stability and success of the world's strongest middle class, and the ingenuity and drive of our country's entrepreneurial spirit. These two forces are inextricably linked; a strong middle class fosters innovation and encourages entrepreneurs to start their own businesses, which in turn creates good jobs that support a growing economy and an increasing middle class.
President Obama has emphasized the critical importance of fostering an "economy that grows, not from the top down but from the middle out" as one of the key pillars of America's economic recovery, and work by several economists supports this argument. For example, researchers from the Federal Reserve, Columbia University and Dartmouth College found that, as their income increases, low- and middle-income individuals actually spend a larger percentage of their extra income than their wealthier counterparts. Consequently a "middle-class recovery" that helps people enter -- or stay in -- the middle class is one of the best ways to kick-start spending and create jobs.
We also know that risk-taking entrepreneurs are disproportionately likely to come from middle-class families. A survey of company founders by the Kauffman Foundation found that less than 1% of entrepreneurs either come from a background of great privilege or from one of poverty. In fact, 72% of surveyed entrepreneurs come from middle-class families and a further 22% are from what Kauffman terms "upper-lower-class" households headed by blue-collar workers.
Entrepreneurs' Family Backgrounds by Socioeconomic Class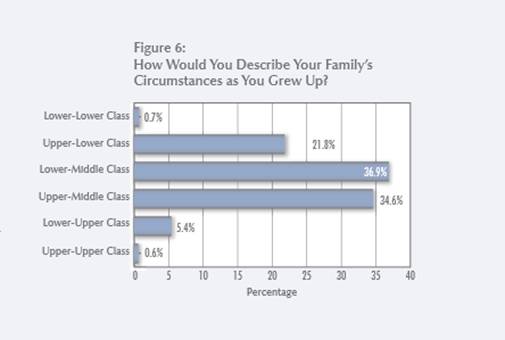 Source: The Kauffman Foundation, "The Anatomy of an Entrepreneur: Family Background and Motivation" (July 2009)
America has a long history of growing its middle class by spurring business formation, which creates new jobs. In fact, two out of every three net new jobs come from our entrepreneurs and small business owners. We've cultivated innovative research networks, reservoirs of private capital and a legal framework that allows entrepreneurs to compete on the merit of their ideas. The key now is to take an inclusive view of entrepreneurship and ensure that access and opportunity reaches entrepreneurs in more areas, and more industries, across the entire country so that each of these areas can have vibrant, sustainable economies and middle class jobs.
The government plays a vital role in tending to our country's entrepreneurial ecosystem. Leaders dating back to President Eisenhower have created high-skilled visas, loan guarantee programs, research commercialization grants and counseling resources that have helped our startups get off the ground. And at the U.S. Small Business Administration (SBA), we're working every day to provide the kind of access to capital, counseling and government contracting opportunities that help small businesses go on to create the next generation of middle-class jobs, sustaining the cycle of American entrepreneurship and innovation.
Williams-Bayer Industries is one such an example. This automotive tubing manufacturer just outside of Detroit was founded by Wilbert Williams, a middle-class engineer who was born in Jamaica. Last spring, I had the chance to visit their factory which was purchased using an SBA 504 loan -- lowering its occupancy cost in the process and freeing up funds to invest in the next stage of business development.
Today, the company has more than 80 employees, and Williams provides them with crucial benefits that help sustain our middle class -- benefits like medical insurance, profit-sharing, flexible work schedules and tuition reimbursement. Studies have also shown that for every new job created in the manufacturing sector, another two jobs are created in the surrounding community.
We know that a strong middle class helps create more entrepreneurs and, in turn, these entrepreneurs are one of the key forces driving the expansion of America's middle class. President Obama said last week, "putting people back to work, making sure the economy is working for everybody, building the middle class, making sure they're secure -- that's my highest priority." The Obama administration is committed to accelerating our country's cycle of entrepreneurship -- helping small businesses to create and sustain the next generation of America's middle class.