After almost two years of insanity, we finally did it! Huge Lips Skinny Hips by Purple Lab - my babies, thousands of them - were ready to ship! (I actually heard Barry Manilow's "Looks like we made it" buzzing in my head all day!). When you send to stores, there's a ridiculous manifesto to stick to or you'll get a million charge-backs.
It takes a few days for it to go from their distribution center to each and every store (they divide up and send as they deem appropriate, based on how they feel each store will respond to different shades, etc.). But with dotcom, it's easier - one distribution center, one day later online. We're at b-glowing.com, an up-and-coming must-have destination for all things beauty (WWD has covered it and put it on the hot list.)
We were so close we could taste it - but believe me, the stress and ulcers were not even close to healing.
Between shipping, trying to raise money, investor meetings, setting up dates to go to all stores to train the staff, handling our point of sales displays with care (I sat on one and broke it), getting some kind of website up and running... it was time for reinforcement.
See what I did. Ugh. Just throw away $100 why don't I?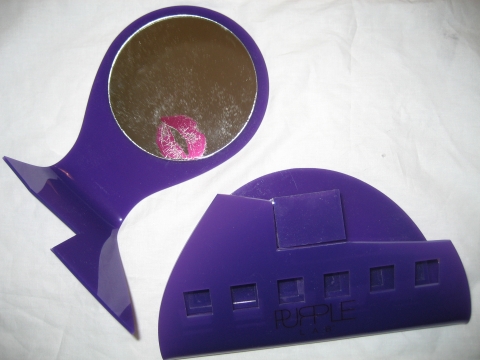 This is when Todd came in as the full-time CEO, COO, CMO (Chief Muscle Officer) and we went from husband and wife to full-on working together day-in-and-day-out partners.
Below, a vlog about the journey at this point. Lights, Camera, Pucker!
More purple love coming soon!
Mwah!
Karen
Purple Lab Creatrix