I must come back to Space.NK -- it's a loooong story -- but that's for later. Now, I was able to finish my presskit.
PR 101: Editors, writers, journalists, media types, bloggers... they get hundreds of press kits and product samples every week. When you're in their position, everyone wants you to cover them so they drench you in product. I still have 37 hand creams, 46 conditioners, 7 eye creams, 18 toners, 3 foot creams, and an entire shelf of SPF and self tanner left over from the good 'ole days of my swag-a-licious life as a reporter.
The problem when you get so much loot? You get jaded. The more you see, the more discerning you become, the harder it is for brands to stand out. 90% of the products I received went to interns, my housekeeper, friends, the cab driver on the way home from an event. Brands need to cut through the clutter. They must stand out at every touch point.
A strong visual impact was vital. No product of mine was to be relegated to the trash bin, i.e. no plain white folders, please!
JD showed me a rendering of a custom $5 folder, about 6x10", in a gradient purple with fuchsia metallic hot stamping (the official color -- Crown 750 foil). I melted. I would need 1,000. Yes, that is 5k on folders.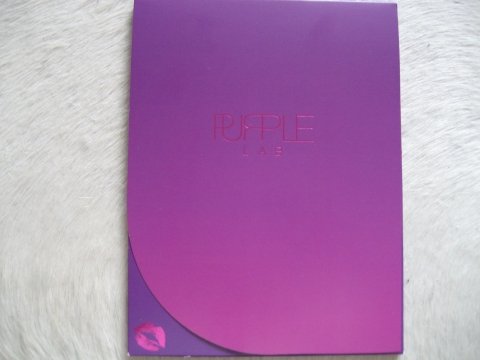 Todd raised his eyebrow in suspicion. "You're spending how much...???"
"Baby, we need it. We're new. We need to pop," I explained, some how convincing him.
To fill the folder, we used super duper cardstock -- printed on both sides, one with info, the other with repeated logo graphics and lip print marks a la Murakami/Louis Vuitton (dare I compare myself!).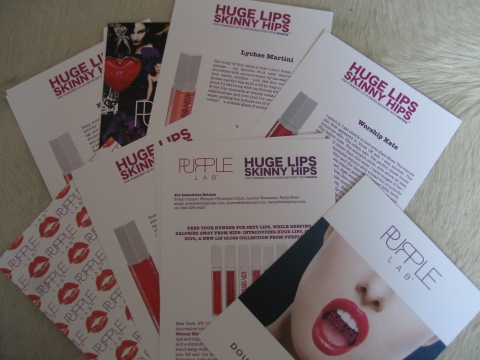 In went a cover page -- a Marilyn Minter (my fave photographer -- Tom Ford collects her work which is very sexy and raw) inspired close up of a mouth with the Huge Lips Skinny Hips logo inside.
It was followed by the press release, about Purple Lab, my bio, the product sheet about star ingredients, a page for each color and its inspiration, contact page.
When all was said and done, it was a $15 press kit.
Yikes. Need I say again that there were 1,000?
Remember that savings I was dipping into? It was near gone.
That brings me to the business plan and money -- the topic for next week.
Mwah!
Karen
Purple Lab Creatrix