I have been a completely absentee blogger of late.
My life is a whirlwind with a rush of emotions over the Purple Lab debut on HSN, which is on Thursday of this week.
This week!
I bumped into my old intern on Saturday night. She reminded me that she was with me two summers ago, when starting this company was little more than a lab sample and a trademarked name. At that time, I had approved a formula for the beauty brand's first product, Huge Lips Skinny Hips, a glam lip gloss with plumper and Hoodia. I was tweaking the logo and telling her that my whole dream and vision was to be on HSN.
Here it is. I struggled, cried, stressed, wondered, prayed, questioned, doubted, perservered, pursued for the last few years. And here it is.
Purple Lab premieres:
February 18th at 9a.m. and 8p.m. ET
February 19th at 12p.m. and 7p.m. ET
February 20th at 2a.m. ET
Perhaps the moment it hit me that this was really, really real was seeing Purple Lab Beauty on the guide of my cable TV.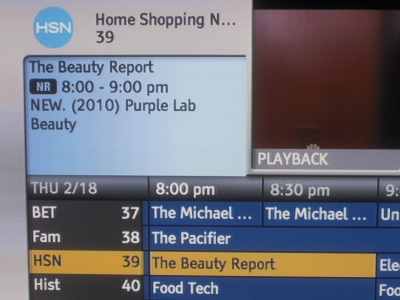 Every ounce of my energy is in this, from a recent trip to book models for before and afters and the live shows (one will come out totally bare faced and do her own makeup as the show goes on) to the promo I shot in their studio (It's amazing to think that two hours of my saying catch Purple Lab phrases like "Delicious! Kissable! Lips!" could turn into a perfectly orchestrated 20 second spot that is currently airing on the network) to the marketing.
We are doing things in a really out of the box way, especially in the social media space.
The blogger behind Temptalia.com is meeting me in Tampa to cover an inside, exclusive look at the behind the scenes action. Look out for her tweets from the green room.
While I'm on air, I will Skype into a large screening party in New York City at a sexy space in Soho called Meet. This is the new "testimonial call in," but via Skype, live, with visuals. Crazy!
And thirty friends - a mix of family, bloggers, college campuses thanks to a partnership with Hercampus.com - are hosting screening parties. I sent them chicly wrapped "parties in a box," with all the necessary ingredients to entertain while I'm on HSN.
The products, Figenza vodka and cocktail recipes, a web cam so they can Skype in and out of each others' living rooms, Pop Chips, purple boas, and other goodies.
This is what my apartment has looked like this week.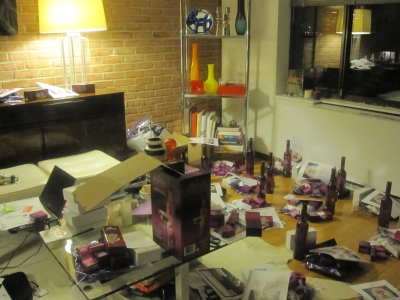 Although HSN is the biggest deal of my entire life, this is still a boot strapped company, where Todd, Sharon (our in house PR chanteuse), a gaggle of interns, and I are folding boxes, hand making signage, stuffing gift bags, and using the bedroom as a warehouse.
And who knows - it could all change after this week! Wish me luck!
And please watch the promo and share. It is on our homepage now!
Mwah!
Karen
Purple Lab Creatrix