Before I go into the full-on TV experience of being on HSN, I want to give you the details on what went down beforehand.
I arrived in Florida, where HSN is based, two days before the big debut last month.
The day before the show, I met with Bob and Chelsea of Bob Circosta Communications, who are not only billion dollar HSN on-air guests and brands themselves, but also school newbies like moi.
Chelsea literally played host, filmed me, and then we critiqued. This was in front of Christine, the blogger behind Temptalia, who was there to report on it all. No pressure!
This is us with Bob himself. He was the first person to ever do the whole "sellivision" thing (speaking of which, I have to read that Augusten Burroughs novel).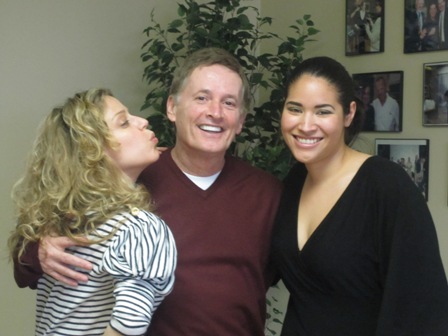 Bob can literally make me want to buy anything! I mean -- have you heard him talk about a 16" diamond-cut 18-k gold rope necklace with a lobster clasp or a 30,000 gallon water filter? If you did, you'd give your credit card immediately.
His formula? State the problem we can all relate to. Help with your solution, making sure to touch on all the features and benefits of the product.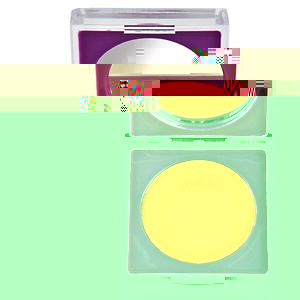 Cheek Implants
The problem we can all relate to? Powder blushes settle in fine lines and wrinkles, which makes you look old. And they fade by the end of the day.
Features are things that never change about the product. In this case, it's a cream blush with collagen, hyaluronic acid and nylon.
The benefits? Cream blush lasts and this formula is moisturizing, hydrating your skin all day long. Wtih collagen and nylon, it has a plumping effect so you don't see the lines and wrinkles. The cheeks really pop and the cheek bones are accentuated, modelesque.
Who doesn't want that?
It makes you look fresh, young, modern. It's blush that's working for you and on you as you wear it!
This is what it looks like on. So divine.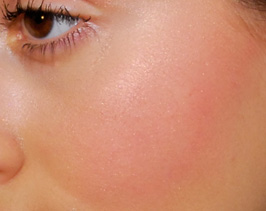 But the trick with live TV presentations is not just knowing your product, but being able to talk about them in front of millions without freezing up in front of the camera.
Luckily, I'm somewhat of a ham.
And then there are the live models.
I wasn't going to be stationed next to them so my role was to get up from my perch with the host and make my way to the models as much as possible to show how easy the products are to use.
There's time to be mindful of -- only a certain amount is allotted per product. I have to take note of multiple screens while I'm on air -- one shows what's on the camera now (i.e. if it's a before/after, I need to talk to it); another shows what's coming next; a third shows actual sales which I decided to ignore lest I get totally distracted.
My head was exploding!
The day before the debut ended at around 9:30p.m. My only goal, at that point, was a good night's sleep before the big day (and steam the wardrobe).
Mwah!
Karen
Purple Lab Creatrix