The manic life of a beauty brand starter - well - it's mayhem and all over the place and bananas and stressful and anxiety provoking and scary and frustrating and amazing and creative and a million emotions wrapped up into one chic purple package.
The Purple Lab beginnings were humble and difficult. And I am not yet up to the part of the story where it all clicked, but I will get there soon.
There is never a dull moment, from the office/my apartment, jammed with up to seven girls at all times along with my husband upstairs, with megaphone when he needs us to be "quiet on the set."
Being financially challenged leads to panic. But there were "wins" along the way, which made it all worth while. In the midst of insanity, we did manage to launch SWAC, a lip product formulated especially for breast cancer awareness (it is made with echinaccea, mangosteens, soothing vanilla, and antioxidants, all wellness ingredients). 20% of the process benefit the Triple Negative Breast Cancer Foundation.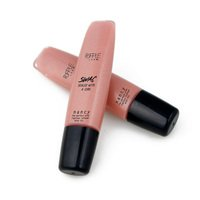 At the same time as we were dealing with getting Huge Lips Skinny Hips out the door, it was time to formulate again, plan future events for marketing, hire a packaging engineer (clearly, we needed reinforcement). The list goes on.
More of the story, below.
Mwah!
Karen
Purple Lab Creatrix