*SEE SLIDESHOW BELOW*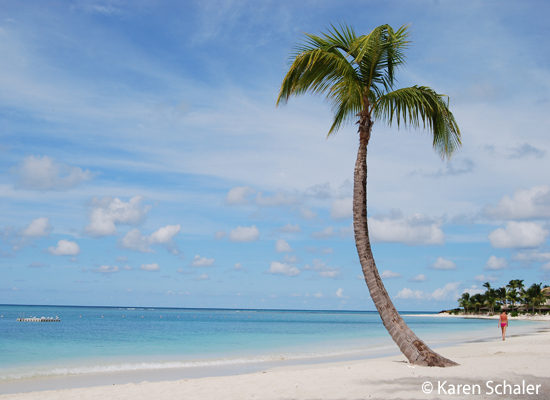 I'm in love... with an island! Okay, sure, many Caribbean islands have tried charming me before, courting me with their fancy resorts, pretty beaches and dazzling nightlife. But this time a quiet, understated private island has stolen my heart. Who knew quiet and understated could be so sexy? Just check out the slide-show of awesome photos below and you'll see why I've fallen so hard!
Jumby Bay. Even the name makes me smile. The resort got its name from "Jumbie", an Antiguan colloquial for "playful spirit". This 300-acre island was first discovered by Christopher Columbus in 1493 but centuries later this tiny strip of paradise is still off the regular tourist radar, in a good way.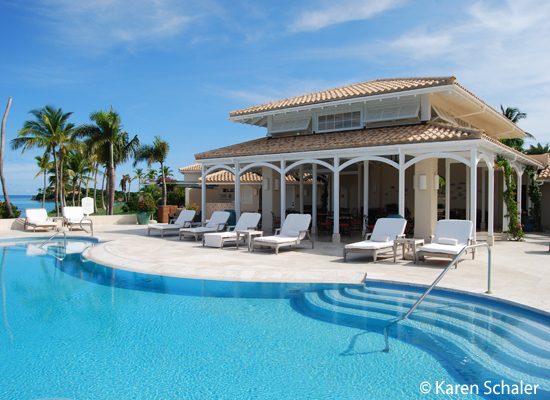 Just two miles north of Antigua, at Jumby Bay, you won't find any cars, shopping malls, billboards or casinos. A vacation here is all about relaxing on the beach, sipping drinks by the pool and indulging in fabulous cuisine. It's low key luxury at its best.
To get to Jumby you take the resort's private boat from Antigua. The ride takes about ten minutes and from the moment you arrive you know things are different here. First of all it's quiet, really quiet. The loudest thing you'll hear is the waves hitting the white sand beach and maybe in the background some birds chirping .
Sound like a fairytale?
Well, now you're getting the picture. It's no wonder top celebrities like Paul McCartney, Hilary Swank and Mariah Carey have all sought refuge here.
A big part of Jumby Bay's charm is the friendly staff that goes out of its way to make you feel at home. There is no tipping here, Jumby is all inclusive, so you know when staff members are being kind and caring it's genuine and comes from their heart, not because they're hoping you'll tip them well.
Also important in keeping the peaceful, idyllic vibe is that on this private island you'll only find 40 rooms and suites and a handful of multi-million dollar villas and private estate homes to rent. You get around by bicycle or golf cart or just walking.
The resort has recently reopened after undergoing an impressive 28-million dollar renovation. Jumby Bay's managing director Andrew Hedley told me while the island was already top rated in the Caribbean it needed a "refresh" to continue to exceed guest's expectations, so even during a tough economy the millions were spent.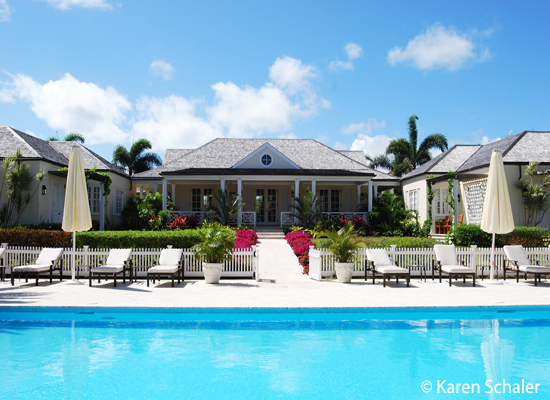 The island is actually owned by the several dozen homeowners, who while visiting Jumby fell in the love themselves and decided to build or buy their own place. They've brought in Rosewood to manage the resort and now that this latest renovation is done there's a long list of what's new and fabulous including 28 gorgeous suites that are just steps from the beach, a new oceanfront infinity pool, new restaurants and the island's first spa.
On my first trip back since the renovation I decided to stay in one of the new oceanfront suites, number #25, and I had one big problem right away. I never wanted to leave!
Honestly, I could happily live in this suite. Its open design, with high ceilings and windows that look out over the sea lets light stream in during the day and offers the perfect sunset view at night. For extra Caribbean flavor all the new suites have their own outdoor rain shower and bath tub. Yup, that's right, a full-sized bath tub right in your own private garden. How cool is that?
Still, one of my favorite things at Jumby Bay is something that hasn't changed, something that wasn't upgraded, the island's small casual, swimsuit friendly beach bar. At this outdoor popular hangout, you'll find only nine wooden bar stools and a bartender who is ready to whip you up whatever your heart desires. This is the place on the island to watch the sunset and meet new friends.
Cheers to Jumby Bay for redoing what needed to be done... and leaving alone what was already working. I think this is one love I'm going to have for a very long time!
For more on Jumby Bay be sure to check out the slide show showing 16 things to love about Jumby Bay. Just beware, I'm warning you now, after seeing these amazing images, you'll want to pack your bags and head to Jumby immediately!
For more insider information on some of the top "Travel Therapy" destinations around the world you can check out the Travel Therapy website at www.traveltherapytrips.com and follow Karen Schaler and Travel Therapy on www.twitter.com/traveltherapy
PHOTO GALLERY
16 Reasons to Love Jumby Bay, A Private Island Paradise!