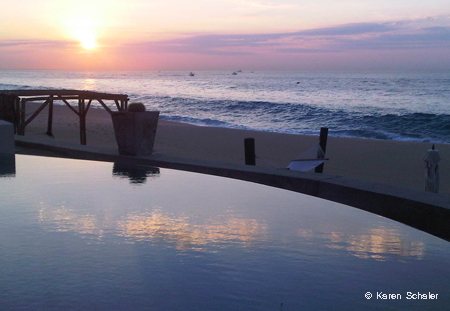 With Cabo San Lucas just a quick two-hour flight from Los Angeles, California, it's no surprise this beautiful part of Mexico has a huge celebrity following with Hollywood A-listers that include everyone from George Clooney and Gwyneth Paltrow to Jennifer Aniston an Courteney Cox.
I just got back from visiting Cabo, researching top Travel Therapy places to experience based on what you're going through in life, and found out firsthand why the new five-star Capella Pedregal hotel is a favorite with everyone from celebrities to CEOs and anyone looking for the ultimate private and exclusive beachfront romantic escape.
I stayed in one of the gorgeous beachfront suites that are unique to Cabo, because they are literally right on the beach and include so many special complimentary extras.
Another highlight: Capella Pedregal's breathtaking spa that was just named one of the world's best spas by a top travel magazine.
For a sneak peek inside this very special property just check out the Travel Therapy videos below that are part of an ongoing TV and online travel and lifestyle series featuring top destinations and hotels from around the world.
Travel Therapy With Karen Schaler Featuring Celebrity Favorite Escape
Travel Therapy With Karen Schaler Featuring Top Spa in Mexico
For more Travel Therapy vacation ideas, be sure to stay tuned here to Huffington Post and you can also check out the TV and online series on Blip.TV and pick up a copy of the book, Travel Therapy: Where Do You Need to Go?
Until next time, safe travels!