You know what they say about how some of the coolest things are right in your own backyard? I found out just how true this is this holiday season when visiting some family in Texas who live near the town of Grapevine, located between Dallas and Fort Worth, that's proud to be called the Christmas Capital of Texas.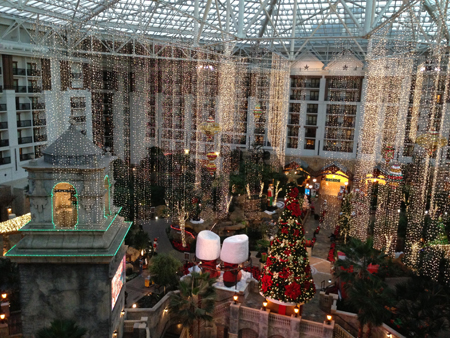 At the heart of the Christmas Capital, the 1511 room Gaylord Texan Resort is a winter wonderland in itself, decorated with more than 1.5 million holiday lights and dozens of Texas size Christmas trees sporting more than twelve thousand ornaments. There's even a life-sized Gingerbread House, made with real gingerbread and of course Santa Claus.
Ramping up the cool factor, literally, is how the resort hosts ICE! featuring DreamWorks Merry Madagascar characters brought to life after being carved out of two million pounds of ice! Even though they give you big warm coats to check out this exhibit you'll want to be sure to bring some gloves, too, because inside the exhibit it's only nine degrees but you barely notice because the ice sculptures are so amazing. Feeling adventurous? There are also several snow and ice slides you can zip down.
I found the holiday season in full swing as soon as you enter historic downtown Grapevine, where over six charming blocks you'll find more than 80 locally owned businesses and Grapevine's own Vintage Railroad featuring a classic train with 1920's Victorian style coaches.
For a holiday ride, grab your kids and hop on the train for the North Pole Express where your journey includes caroling and stopping to pick up Santa. Or you can opt for some adults only action by signing up for the Christmas Wine Train where you drink wine from a local Texas winery and sample hors d'oeuvre from a local restaurant.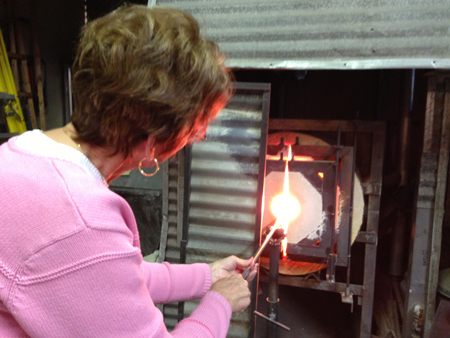 Another unique experience I loved in historic Grapevine is visiting the Vetro Glassblowing Studio and Gallery where you can actually make your own glass ornament with the help of master glassblower David Gappa. There is just something so magical about being in the studio and creating something so beautiful from the very beginning and walking away with a keepsake and a special Christmas memory.
While downtown also be sure check out the new 127-foot high Clock Tower featuring two nine foot tall Glockenspiel characters known as wanna-be train robbers that put on a show every day at noon and six.
When you're downtown don't miss popping into some of the shops along Grapevine's Main Street. Some of my favorites include a cute clothing boutique called Crowned by Grace where it's all about finding affordable, fashionable things featuring Southern Bling. Good Things for All Seasons is another great stop because this little store is filled with so many interesting items there's bound to be something that catches your eye and the new store One Posh Place has some really great chic home accessories that are showstoppers but still affordable. When it comes to art galleries, I really liked Great American West and the new Giddens Gallery featuring all local artists.
When you've shopped up an appetite for restaurants you can't go wrong at the award-winning Main Street Bistro & Bar that specializes in homemade breads, pastries and gourmet cuisine. The Almond Croissant is worth every calorie and the tomato basil soup is a local's favorite.
Another hot spot that's known for its Mexican food and has a great happy hour is Tolbert's Restaurant. The signature bowl of chili was one of my favorites as well as the tortilla soup. Another Grapevine favorite for Mexican food with a twist is the Texas chic Mi Dia from Scratch. Just a short drive from Main Street this restaurant serves up some of the best margaritas I've ever had with dozens of different kinds to choose from.
For free nightly entertainment Grapevine also puts on an impressive light show at the town square gazebo in the heart of historic downtown Grapevine. This colorful synchronized light display runs continuously from six to eleven at night to a musical backdrop of Christmas favorites so you can come by whenever it's convenient to enjoy some sights and sounds of the holiday season.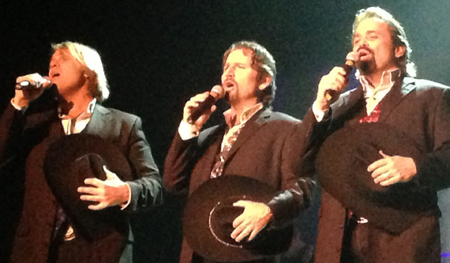 For a real treat catch the Texas Tenors playing in Grapevine's historic Palace Theatre that holds just over 400 people. The Texas Tenors perform their own twist to some Christmas favorites and put on a truly talented and feel-good show that will leave you smiling. Insider tip: while I was there I heard the Texas Tenors are going to be performing at Grapevine's Palace Theatre again next holiday season in 2013, and 2014, so what better reason to start planning your visit to Grapevine to experience the Christmas Capital of Texas. I know I'll be there next year!