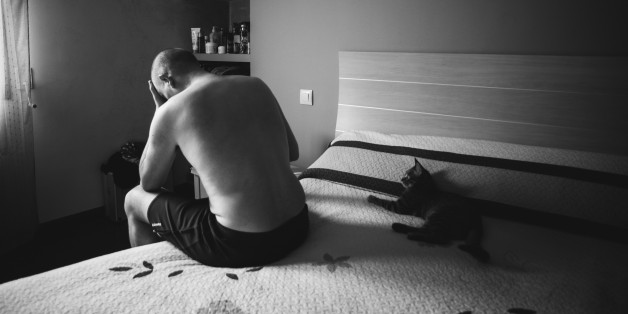 The clinically-depressed person is often likened to an innocent in hell by medical professionals and their loved ones. It always stems from a well-meaning attempt to lift the depressed individual from the quicksand of self-loathing and self-beratement. You are not any of those things you say you are. You are not evil, you are not selfish. I know you. You are an amazing person and you are suffering due to no fault of your own.
I disagree. Yes, maybe it was never my fault that I was depressed, but I am in many ways flawed, just as you are. I am not innocent, just as you're not. The only difference is that the depressed feel the weight of their flaws far more intensely than those who are not depressed.
While deep in depression, I mulled and mulled over how I hadn't fulfilled my duties as a daughter, how I'd too absent as an older sister, how I was too uncaring as a friend, how I was a terrible girlfriend, how I'd been irresponsible with the resources entrusted to me, how I'd wasted so many opportunities in my life, how I was terribly hypocritical as a Christian.
All those things are true to a certain extent. Tell me I'm wrong and I wouldn't believe you, because nobody knows my motivations and intentions better than I do. It's just that while depressed, I was so crushed under guilt and regret and I wasn't able to be realistic, and wasn't able to move forward.
And as many people know, depression distorts our perception. The key word here is distort. Depression doesn't just make stuff up out of thin air to torment you. It reaches into the recesses of your mind, pulling up real memories of real thoughts you've had, real things you've said, and real things you've done (or not done, as the case may be). You become hyperaware of these things -- your flaws, deficiencies, failures -- and that's all you can think of. You're so aware, too aware, that these images eclipse any positives you might still remember. And yes, it later magnifies them, such that you come to believe the damage is so big that you can't ever do anything to rectify things.
And then the self-fulfilling prophecy is set in motion. Believing I was an irrevocably depraved person, I started thinking and behaving like an irrevocably depraved person. I would sometimes try to drag my then-boyfriend down into "hell" with me so I wouldn't be so alone in my inescapable misery. I shudder at this confession, thinking about how I acted like the thief who "comes only to steal, kill, and destroy" (John 10:10).
Too often, though, we are told that "depression lies to you." I cannot count the number of times I heard this mantra while deep in the throes of depression. I have a big problem with this phrase. It creates in the mind of the depressed person an impossible dichotomy: Either I am the horrible person I make myself out to be, or I am completely innocent of all the things I am accusing myself of. It seems like wishful thinking to believe the latter, so of course I cling on to my own (distorted) assessment of myself. The fact of the matter is that I am neither of those things and it would have been most helpful to help me discover the realistic, reasonable middle ground.
Thanks to medication, counseling, spiritual support, and the love of those who love me, I am now a lot better. But I choose to remember the things that were brought to the surface while I was deeply depressed. They are real, and I am making use of the energy and optimism I now have to seek healing. In myself, I am hoping to overcome my flaws. And in my relationships with other people, I am seeking to love and serve better.
There is great temptation for those coming out of depression to frolic in "the land of the living," leaving all the pain behind. I fell into this temptation as I recovered from my previous cycle of depression. I was too eager to see myself as a good person, and I swept all my failings back under the rug, where they'd been for so many years of my life.
But I now believe that we go through suffering not just so we can appreciate its absence. Suffering grows and refines us. I would encourage anyone, clinically depressed or not, to occasionally sit amidst the rubble and ask what you ought to do with the mess around you. Mend those broken relationships. Forgive those you haven't forgiven (including yourself). Ask for forgiveness from those you have wronged (intentionally or unintentionally). Overcome those self-indulgent habits. Pursue a vocation that, rather than helping you not to run away from the messiness of the world, allows you play a role in healing it. And be there for those who were there for you, as well as those who weren't, because you now understand the darkness of suffering alone, and you understand the power of solidarity and grace.
This article was originally published on Under Reconstruction. You can follow the blog on Facebook.