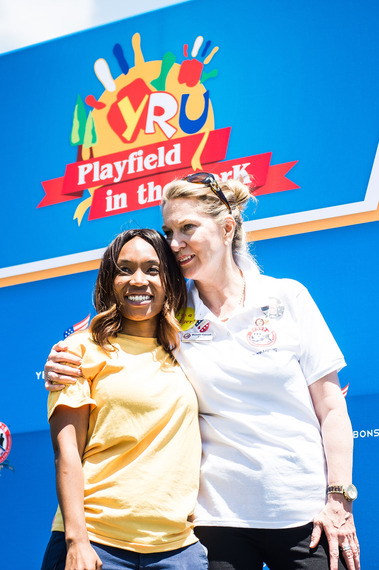 Emma Dockery, co-founder of Yellow Ribbons United and Bonnie Carroll, founder of TAPS. Photo courtesy of Yellow Ribbons United.
Memorial Day weekend has become a demarcation of summer -- a time when Americans across the country throw backyard barbecues or head to the beach. But Memorial Day is so much more to so many. It is a day of remembering, honoring, and celebrating our fallen heroes who sacrificed their life for our country, as well as letting those who they left behind know that the sacrifice is not forgotten.
This Saturday at West Potomac Park near the National Mall in Washington, DC, 500 kids of fallen service members will take part in Yellow Ribbons United's Playfield in the Park. Hosted in partnership with TAPS and their Good Grief Camp, Playfield brings together members of the Washington Redskins, the Washington Nationals, Washington Wizards, DC United and a litany of corporations and local businesses to give these youngest heroes a day of fun and an opportunity to be with other kids who are coping with the loss of a loved one.
Emma Dockery co-founded Yellow Ribbons United with her husband, former NFL player, Derrick Dockery, after Emma lost her brother, Sgt. David Williams in Afghanistan in 2012. To honor his memory, Emma wanted to create a positive and empowering experience for the military children of those left behind, using the power of sports and the athletes these kids admire and look up to.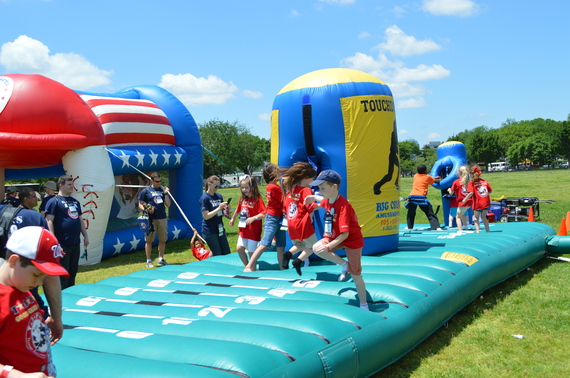 Yellow Ribbons United Playfield in the Park, courtesy of Yellow Ribbons United.
Emma Dockery offered, "The nation will pause to honor the beloved heroes of our nation, but it's important for us to remember these children because these children are the legacies of their sacrifice. They are the young heroes who we all should honor as well."
In the Tragedy Assistance Program for Survivors (TAPS), Emma found the perfect partner. Presidential Medal of Freedom winner and Veteran Bonnie Carroll had lost her husband, Brig. General Tom Carroll, in an Army C-12 plane crash on November 12, 1992. Carroll understood all too well those feelings of grief and started TAPS to help other military families.
Each year, for the past three years, TAPS annual Good Grief Camp and Seminar has concluded with Playfield in the Park. Bonnie Carroll said, "Memorial Day can be an emotionally charged time for children of our nation's fallen heroes, and Playfield in the Park offers a timeout from their grief where they have an opportunity to connect with each other, military mentors, and some of their sports heroes in a fun-filled environment."
Some of the confirmed line-up of both current and alumni NFL players include former Washington Redskins linebackers, Roger McIntosh and Ken Harvey, Buffalo Bills linebacker Lorenzo Alexander, Washington Redskins long snapper Nick Sunberg, and former Pittsburgh Steelers wide receiver, Antwaan Randle El.
Additionally, kids will have the opportunity to learn about journalism from Washington DC's NBC News4's Angie Goff and Amelia Segal. American Girl Citi Open, USTA Mid-Atlantic, American Girl, Mission BBQ, Paisano's Dog Tag Bakery, ESPN 980, NBC News4 and many other local businesses will be on hand to make this an incredible day for Playfield participants.
When asked about what she hopes kids will take away from the experience, Emma Dockery answered, "It's our hope that they would know how much they are loved, valued and cherished. That they too are young heroes and we appreciate their service to this nation."
To learn more about Yellow Ribbons of United visit http://www.yellowribbonsunited.org/ and to learn more about Taps visit http://www.taps.org/ .