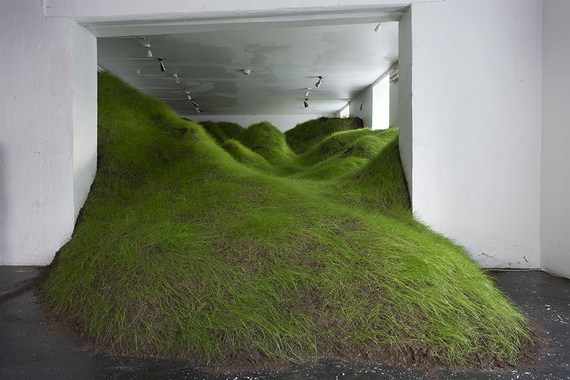 Per Kristian Nygård, installation view. Courtesy of No Place Gallery. Photo by Jason Havneraas.
Per Kristian Nygård, Not Red But Green, at No Place Gallery
NoPlace is an artist run space organized by Jason Havneraas, Kristian Skylstad, Karen Nikgol, Hans Christian Skovholt, and Petter Buhagen. During Not Red But Green, Per Kristian Nygård constructed and grew an impressive, hilly landscape of grassy mounds, receding mysteriously into an interior room. By estimation, the lawn may have receded thirty feet or so, but illusion stretched this to visually harbor the scale of true hillsides, presenting the viewer with elvish wonderment about process as well as intention. Several small children in attendance had to be warded off from climbing onto the greenway, and this was no wonder, for there was an instinctual and inviting pull from the grass, making one want to depart from the conventions of art viewership. The grass sculpture was grown in entirety from seeds that had been planted two or two-and-a-half weeks earlier, and the mound formations brought to mind Icelandic lore of Huldufólk, or Hidden People, the mythical inhabitants of stones and mounds. I asked Kristian Nygård if there was a connection to this Icelandic lore of the land, and he said not in particular, and rather he's engaging with what he described as "basic sculpture" (seeds and soil) and "just works in space. " Simply put, he said he was "trying to make something that doesn't make sense." Kristian Nygård also described how undertaking these interior sculptures involve finding out particularities and the labor of becoming "your own assistant and a gardener." A visceral connection to craft and an open sense of process took hold, eclipsing the end result of production or concept of object.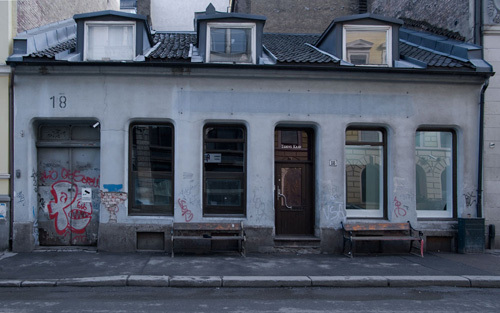 Courtesy of Tidens Krav.
Collection as Allocated Objects, at Tidens Krav
Tidens Krav is an artist run enterprise, active since 2009, and at its helm are four artists: Mercedes Mühleisen, Anders Holen , Linda Lerseth, and Øyvind Aspen. The apartment space includes an often re-imagined exhibition gallery along with a salon-style bar set in a wood paneled room with a soft glow of vintage light fixtures. Its openings are known to be lively with no shortage of libations or bodies (in Lars Brekke's press release, written by Stian Gabrielsen, there's a vivid description of a Tidens Krav opening with a "pulsating mob" and "mass of people being pressed toward one another"). Marthe Ramm Fortun described Tidens Krav to me as "the heart of Oslo." The residence was built around 1790, and its spectacular history fittingly includes a curious past existence of a fireworks factory in its backyard.
The collaborative programming at Tidens Krav is thoughtful, and the word "curated by" or "organized by" is purposefully omitted from the show's descriptions. Rather, the shows unfold, occur, and happen organically and collectively, inspired by "time's demand." This is described on their website: "The name, Tidens Krav, is a language specific expression that translates into 'Time's Demand', or more loosely into 'Whatever required by the now'. Not limited to tendencies, fads, or flings, nor by faith or karma, the requirement of the now, could be you exhibiting yourself in your own gallery, your friends exhibiting themselves in their gallery, or us exhibiting each other in our galleries - the requirement of the now could be whatever..."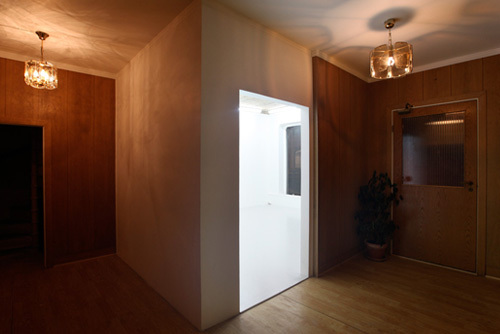 Courtesy of Tidens Krav.
Most recently, this vision was applied in a performance, "Collection as Allocated Objects," (Tidens Krav & Sverre Gullesen) a night of poker where participants staked their own works, or works in their possession, with the winner taking all. The eight hour poker match was exhibited by an online video feed using official poker broadcasting equipment. In addition to the roster of nine in-the-flesh artists and collectors, the National Museum participated as an entity, upping the ante considerably for all involved. Upon winning the match, the collector Nils Wogsted donated all of the works to the National Museum.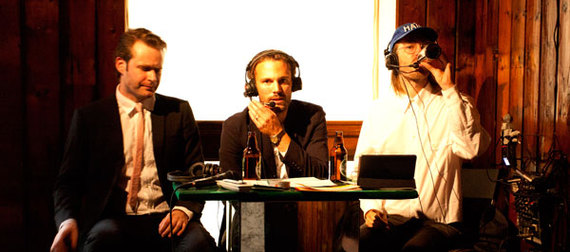 Collection as Allocated Objects narrators Sverre Gullesen, Kåre Magnus Berg, and Anders Dahl Monsen. Courtesy of Tidens Krav.
Tidens Krav is no stranger to hosting experimental scenarios which edge on gift giving ceremonies as much as gallery shows, as displayed in their long running economic experiment "The Newest Standard." Artists who buy a work of art from Tidens Krav are wrapped into a kind of trust, recouping profits of sales involving non-artists, after Tidens Krav's rent is paid. It sounds confusing, but like much of the work making waves in Oslo, a utopian element is strongly present, and never tongue in cheek.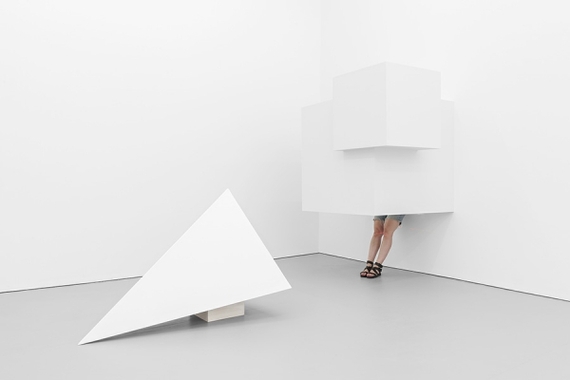 Lars Brekke, installation view. Courtesy of UKS. Photo by Vegard Kleven.
Lars Brekke, REMORSEFUL TOILS, Problems and the Strives of Humanity, at Unge Kunstneres Samfund (UKS)
Lars Brekke presented an exhibition of videos installed sculpturally in UKS' inaugural new location in downtown Oslo (curator and art critic Johanne Nordby Wernø is now entering her second year as Director of UKS, a gallery and nation-wide members' union for artists). His works depicted a group of young men in domestic and mannered environments, giving the sense of one's grandparents' living rooms, discussing the intricacies of a post apocalyptic existence upon an empty earth. The scenes were intercut with images of this scenario, with survivalist moments of fishing or foraging in woodlands, lonely videographic vigils with cameras hoisted supernaturally in the limbs of trees, among other, more mysterious things. Brekke's work was cinematic but evenly paced and quiet, and its actors were convincing in their assumption of a humorous yet forlorn sense of contemporary existentialism, giving honor to independent filmmakers such as Harmony Korine or Jim Jarmusch. Brekke's videos were mostly installed within oddly shaped, white constructions in which a single viewer or couple could snugly fit. The interiors of these personal viewing rooms were laminated with domestic wall coverings, wall papers and wood clapboard reflecting the settings of the videos. The effect was strange in that the gallery itself seemed almost brilliantly white and starkly empty, as the sculptural viewing pods blended into its walls like futuristic kiosks, and yet when sitting inside these constructions, one was filled with a sense of warm, familial viewership, as if residing in a nostalgic basement den. A side gallery in UKS' impressively multifaceted space contained a longer format piece by Brekke in a typical theater arrangement.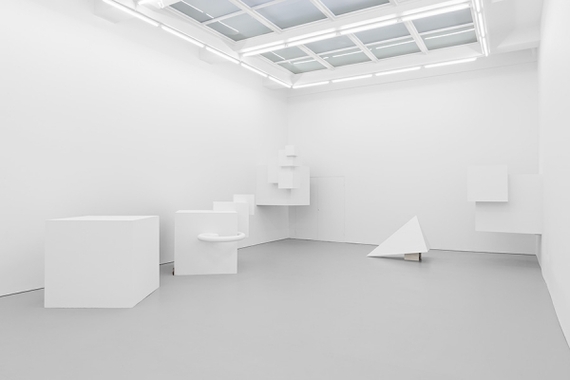 Lars Brekke, installation view. Courtesy of UKS. Photo by Vegard Kleven.