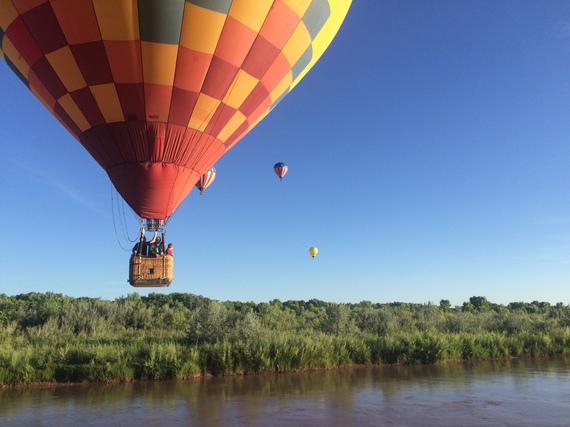 Want to start an argument? Just ask two people to define an "epic" adventure. And then walk away.
Don't worry, I won't do that. But allow me to add my two cents to the debate: I don't think it's where you go but what you do that matters the most.
Our definition of "epic"
This year, our family headed to New Mexico for our summer road trip. Nothing like visiting the desert in the middle of summer, right? Well, we don't shy away from weather, seasonal discomfort or extended drive times.
And we love getting lost along the way. Seriously, you make some of the best discoveries when you have no idea where you are. Don't think about that for too long or your head will explode.
The key to an epic adventure is letting the trip happen to you. That's not to say you shouldn't be prepared. If you start with a dream list, plot it on a map, find a comfortable home away from home, stay realistic and explore unusual ways to save money - this is where those rewards club points come in handy - you'll feel more comfortable living in the moment. Here's what we discovered: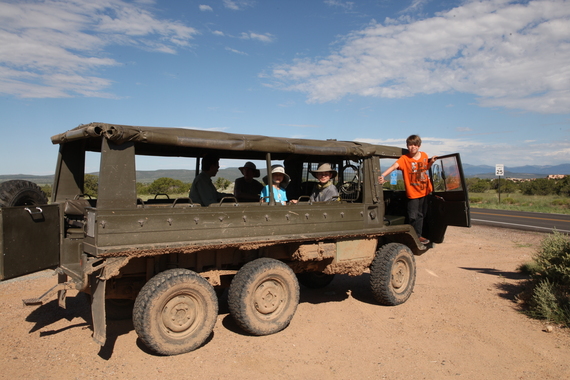 Let the kids choose some activities
In our house, if the youngest child, our eight-year-old daughter, Erysse, isn't happy, ain't nobody happy. So we go out of our way to include her and her brothers in our travel planning. That's probably why we had an itinerary that included offroading in the outback of the Rio Grande near Santa Fe, hot air ballooning in Albuquerque, riding horses in Las Cruces, visiting the Very Large Array near Socorro -- seriously, it's called the Very Large Array -- and stopping in Roswell.
OK, that last one was my suggestion. What can I say, I love my Sci-Fi.
After a little more research we added White Sands National Monument, the state capitol, Sandia Peak, Spaceport America and the Rio Grande. We didn't actually plan to do everything on our list, but every itinerary needs a Plan B, right?
Plot the course
The next thing we do is use Google maps to plot where the sites fall within the state. This will help us create the drive and decide where to stay overnight. Our trip took us to the southeastern part of New Mexico near Roswell and as far north as Santa Fe. Once we plotted the sites we could see some hubs emerge. If we stay in Las Cruces we can easily go to Spaceport America, try to find some horseback riding and visit White Sands. Albuquerque is also a good hub for ballooning, hiking the Rio Grande and visiting historic sites.
Stay somewhere comfortable
It's hard to find a place that is comfortable for a family of five. It's generally one person too many for standard hotels so we usually opt for a vacation rental on HomeAway, or a suites hotel. The Staybridge Suites properties have a few two-bedroom configurations that accommodate up to eight, and that's where we like to stay. We like the privacy, with the parents having their own room and a kitchen where we can prepare meals. Plus, the price is right.
My kids love the pool, and beg to go swimming wherever we stay. Our Staybridge in Las Cruces had a nice patio and outdoor grills, too. I try to avoid their breakfasts because I'm always tempted to make the waffles. Who sticks to a diet when you're traveling?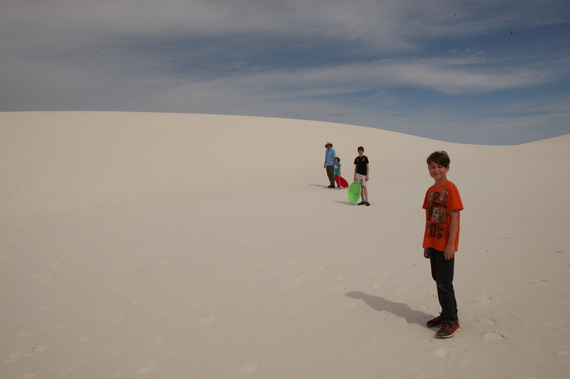 Set a budget but be creative
With activities like hot air ballooning, horseback riding and 4x4 touring, we knew we'd likely have to watch our spending closely. And I'll admit, I felt a bit lightheaded when we tallied up the costs. But when it came time to pare down the list we were surprised by the number of free things we planned to do. White Sands is a national park and the Very Large Array was not too pricey. The state capitol would be free, as well as most the of the historic districts.
Then we focused on the more expensive items and tried to find ways to bring the costs down. A friend recommended we use some of our rewards points and discounts from organizations we belong to. We had a lot of points through our hotel rewards program after staying in almost every Holiday Inn Resort a year or two ago. We could easily use those points to cover hotel nights.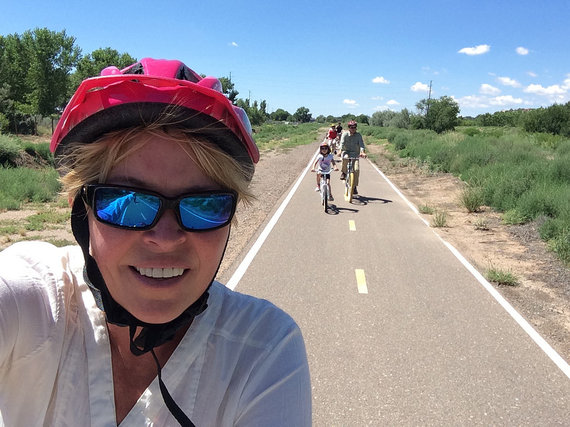 When we started the booking process with IHG Rewards Club, they let us know we could also use points on activities if we booked them through their concierge service. We had enough points to book an outback adventure tour in a Pinzgauer high-mobility all-terrain vehicle and the hot air balloon ride. Instead of horseback riding we added a bicycle tour along the Bosque Trail.
Keep it real
With the money we saved using points we were able to tour Spaceport America's space terminal, take the tram at Sandia Peak and even visit the Inn and Spa at Loretto in Santa Fe. After the Pinzgauer off-roading tour near Santa Fe, we really needed a massage. Our points covered everything.
We also spent a day visiting the infamous small town of Roswell. But my kids wouldn't let me bring home the giant green inflatable alien, probably because we didn't get to see any real space aliens.
Now that would have made it a most epic family getaway.