Kids? On a river cruise?
That was the first question a friend asked when we mentioned our plans to sail on the Vantage MS River Venture in France.
"What's there for kids?" he wondered.
I'm sure he was really curious about the onboard activities between those charming little villages in which the ship stops. He probably couldn't picture my children spending much time playing shuffleboard or bridge, and historically, small ships tend to cater to the an older demographic, too.
A much older demographic.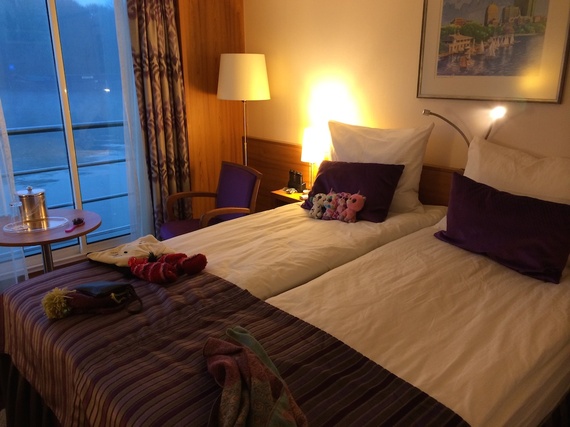 In fact, most river cruise lines set a minimum age for passengers at 18. But you'll find a few companies and itineraries that cater to families.
As it turns out, there's plenty to do onboard, regardless of your age. But with kids -- especially children ages 7 to 11, like ours -- you have to be creative, know their limits and mind your manners.
For the record, our vessel didn't have shuffleboard, but it did have one of those oversized chess sets on the sun deck. We were surprised at how spacious the top level was, considering the vessel is fairly intimate on the inside.
But what do kids actually want on a cruise? Well, it all starts with a fast, reliable Wi-Fi signal from which to stream their digital lives. And that, the MS River Venture definitely had.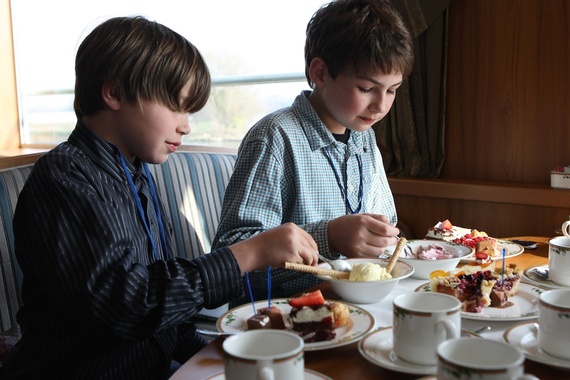 How about food? As dad is fond of saying, no one ever starved on a cruise ship. Riverboat food, at least on our French itinerary, is pretty exceptional. Sure, they serve the predictable French appetizers, like escargot, and difficult-to-appreciate desserts like crème brûlée (at least, for kids).
But thank heavens for dessert. The kids knew that if they didn't fully appreciate the exotic entrees, there was always the final course to fall back on. And fall back they did a time or two, requesting double portions of chocolate torte, cheesecake, or some exotic French dessert that they couldn't pronounce, but that tasted really yummy.
One comment received over and over from fellow passengers was, "You sure have the best behaved kids. I was expecting the worst!"
(They don't know our kids.)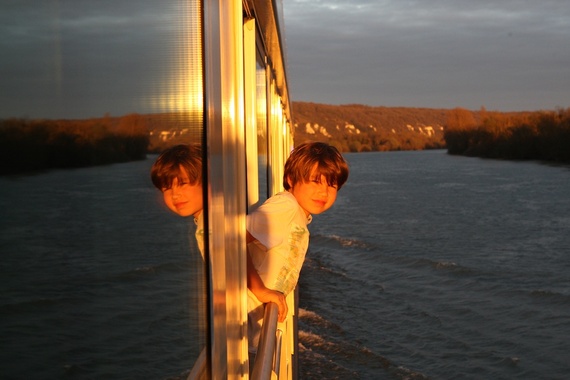 So what are the youngsters supposed to do while the adults tour Versailles or the Louvre? The same thing. Most of these tours accommodate children and if the kids have just a little patience, they might actually learn something. And they did -- I think.
If you have more than two kids, I highly recommend that you consider booking a larger room, or two rooms. Accommodations on riverboat cruises tend to be cozy, and you'll appreciate the extra space.
Our kids connected with the French experience while they were on our abbreviated four-day itinerary. The Vantage voyage began in Paris, with stops in Versailles, Normandy and then returned to Paris.
Among the highlights: an early-bird tour of Versailles, which allowed us to avoid many of the crowds in the famous palace; and a hike around Château Gaillard in Normandy, which is easily one of the most scenic photo opportunities in the country, featuring breathtaking views of the limestone cliffs and and the Seine River.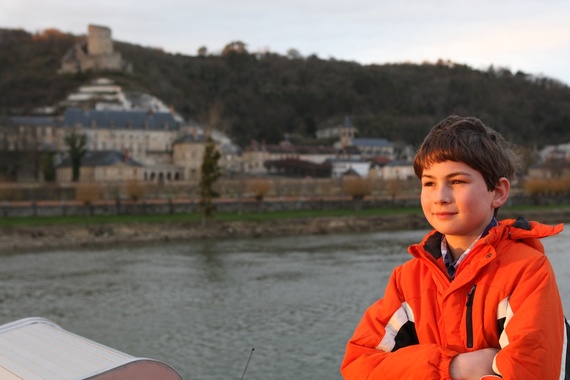 Was this the perfect riverboat cruise? Maybe. Our middle son thought the ship didn't move fast enough. It would be more fun, he suggested, if the bow of the vessel was coming up out of the water, like a speedboat.
Right.
Our daughter felt that the meals didn't have enough chocolate. But she's always complaining about that, even on land. And our oldest son, Aren, grumbled whenever the Wi-Fi hotspot slowed down, as it inevitably did in the early evening, when everyone on the vessel tried to post to Facebook at precisely the same time.
All that said, we would take another riverboat cruise -- yes, avec enfants -- in a New York minute. You really feel connected to the country when you are at river level, in a way that you don't with a motor coach tour or on an ocean cruise.
Maybe the real question should be: Why don't more families try riverboat cruising?
I suppose it's easier to book a Disney cruise and be done with it, if a cruise is the thing you want to do. But hey, it's Europe and we'd give anything to see the Disney Magic try to make its way up the Seine.
That would probably be a short cruise. But one worth watching from the banks of the Seine, at a safe distance.