There's no sugarcoating it: Visits to friends or family members' homes can sometimes be excruciatingly difficult.
Expectations are high, especially if you are a rare visitor and they've known you since you were in diapers. Children, unaccustomed to travel or dealing with the stress, may misbehave. Even well-traveled kids, like those we feature on our family travel blog have succumbed, responding with some questionable behaviors. And when you're with family, it's easy to feel as though you're under the microscope.
Oh, and you have to eat the food that is served.

According to a recent survey, almost two-thirds of travelers aren't "overly thrilled" to stay with friends and family during the holidays. Among their top gripes: lack of personal space (29 percent) and uncomfortable sleeping arrangements (28 percent).
Most travelers said they would prefer to host the holidays at their house. When asked to name the relative for whom they'd most like to find separate accommodations, about one in three (29 percent) say they'd send their siblings packing while 22 percent said their grown child could stay elsewhere.
What a welcome!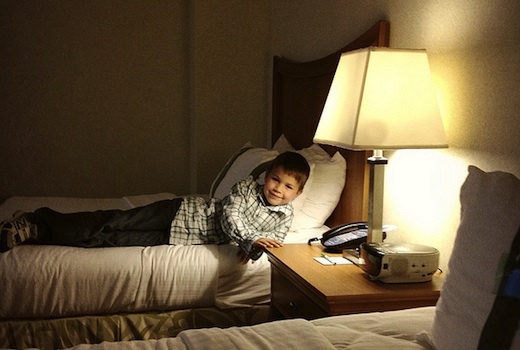 Have you ever arrived and then wished you could come up with a good reason to leave?
Here are few times we made a U-turn:

The kind but unhappy hosts. We went to Madison, Wis., for my honey's sister's wedding. She made arrangements for our small family and a cousin to stay in her good friend's house. The hosts were kind, but within an hour of hospitality it was clear more was expected of us. Chris' cousin bailed, finding a rare hotel room before the day was over. We stayed the night, but immediately after breakfast thanked them for hosting us, packed up and squatted with his cousin far from the rest of the family on the other side of town. We just felt like a burden.

Split up. Just last year we stayed at my parents' and my better half had to leave and stay at a nearby motel. Why? Without going into too much detail, he needed to be able to work and being away helped him focus. We are rare visitors compared to my siblings and even though it looks like we're on vacation, we're really on the job. Enough said.

Family matters. Similarly, when we were driving across the United States we stayed a few nights with Chris' parents and unwittingly became part of a debate. Again we are rare visitors and even more rare was seeing our kids' great-grandmother, so we really didn't want to leave on a sour note. In the end we were able to take a few days away and come back a week or so later -- just long enough to catch up but not long enough to cause a riot.

The drive-by. We had a great drive-by visit with my sister on our way from the Holiday Inn Resort in Lake George, NY, to our vacation rental in Ocean City, Md. Sparta, NJ, was a terrific mid-point to stretch out legs and spend time with my nephews. (They really are soooooo cute!) My only regret was about two hours into the visit I started panicking about making it to check-in in time. We ended up leaving earlier than planned.
How about you? Have you ever cut a visit short because you felt uncomfortable?