It was our day to ski and we couldn't wait.
We were in Cortina D'Ampezzo, the legendary resort that hosted the 1956 Winter Olympics, but snow was billowing out of the sky thick and heavy, like feathers from a ripped pillow. Now what?
Days later, same problem: We were in Italy's world-famous Piemonte region, in a little town called Cortemilia that's known for its wine, hazelnuts and picture-perfect scenery. A relentless downpour stood between us and the photo safari through the countryside. What next?
Well, if you're Italian, or you've ever visited Italy, you know what comes next. You eat! And that's especially true if you're traveling with kids.
In Italy, where food is tied to the national identity like strands of spaghetti wrapped around a fork (sorry, couldn't resist!), you always have the cuisine to fall back on. And what a fall it is.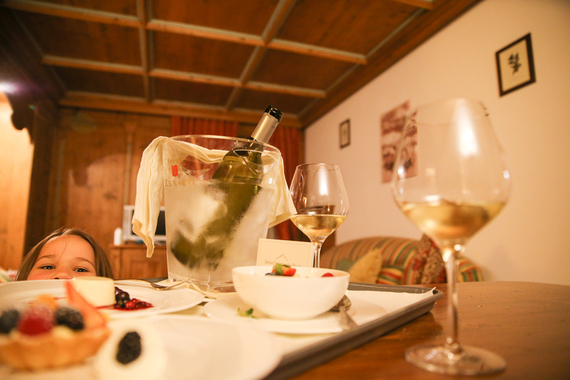 Let them eat cake in Cortina
Know that saying, "Life is short. Eat dessert first"? In Italy, they live it.
Our first Italian breakfast at the Park Hotel Faloria featured an extensive selection of pastries and cakes. Sure, there were eggs, sausage and sliced meats with cheeses, too, but do you really expect the kids to choose that when they could have a chocolate croissant or hazelnut pound cake?
Our 11-year-old son -- obviously going through a growth spurt -- zeroed in on the chocolate croissants, which were made in the Italian style. The adults, still trying to retain their low-carb regimen, gazed at his plate longingly.
What impressed us is that dessert seemed to be a never-ending course that extended through the day. Even when we stopped for lunch at the Embassy Bar in downtown Cortina d'Ampezzo, the sandwiches were flanked by ubiquitous, tasty Italian cookies. There was no escape. I even packed two boxes for later in my Delsey travel case.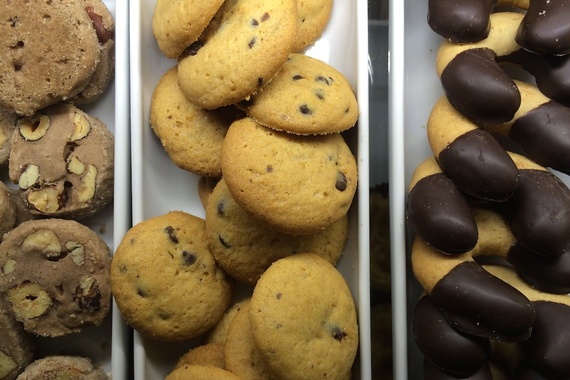 You may not know this, unless you happen to travel often with young children, but if you start too early with the sweets it leads to an unsustainable sugar high, and it doesn't always end well. Fortunately, the hotel had an indoor swimming pool where the kids could wind down at the end of the day before crashing.
Comfort food in Cortemilia
We love picnics, especially when we're in Europe and dining out can quickly add to the expense of a trip. The frenetic, maddeningly crowded grocery stores have become our best friend. But there are exceptions. When you're in an area whose identity is so closely tied to its food, the picnic can wait for another day.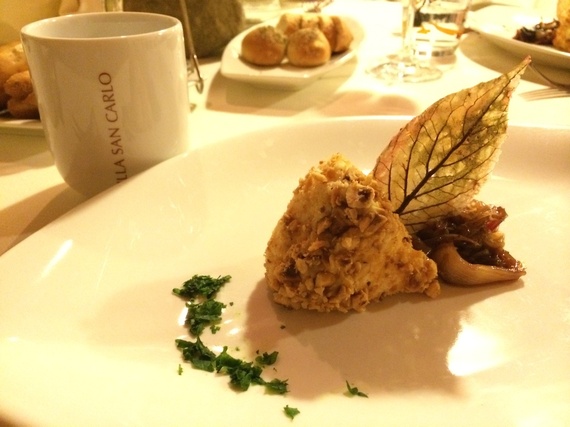 In Cortemilia, after we checked in to the Villa San Carlo, we discovered that the food is the main attraction -- dishes like ravioli and risotto are made according to recipes passed along from one generation to the next. Chef Carlo Zarri invited us into the kitchen to show us how he made these authentic Piemonte pastas according to a recipe passed down from his father, who learned it from his father.
The pasta is painstakingly made by hand, with a simple dough made from egg and flour and a filling of spinach and sausage. All the ingredients are fresh and local. Zarri explained that it must be done this way in order to remain authentic, something we appreciated when we sampled it.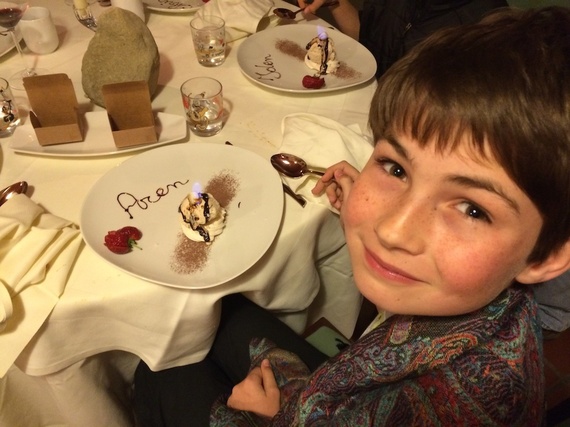 Even our middle son, Iden, a picky eater who has a reputation from Honolulu to Rome for turning down food made by the finest chefs, could not resist Zarri's cooking. Cortemilia cuisine is heavily influenced by hazelnuts, which are grown in the area (think hazelnut-covered cake, hazelnut ice cream, hazelnut-encrusted cheese, hazelnut liqueur) and red wines made in Barolo.
For us, the takeaway was simple: You can't control the weather, but you can travel to a place where the food is always terrific. For us, that place was Italy. Sure, the Italian Dolomites are awe-inspiring (when you can see them). Yes, Piemonte, with its terraced hills punctuated by hazelnut groves and vineyards, has to be seen.
But more than that they have to be savored -- one bite at a time.