Ottawa is in a celebratory mood.
Canada's 150th anniversary of confederation is just a few months away -- they're calling it Canada"s "big year" -- plus a round of smaller commemorations, including the 50th anniversary of the famous Ottawa swans and the 10th anniversary of the Rideu Canal as a World Heritage Site, are happening now.
What better time to check out Canada"s capital?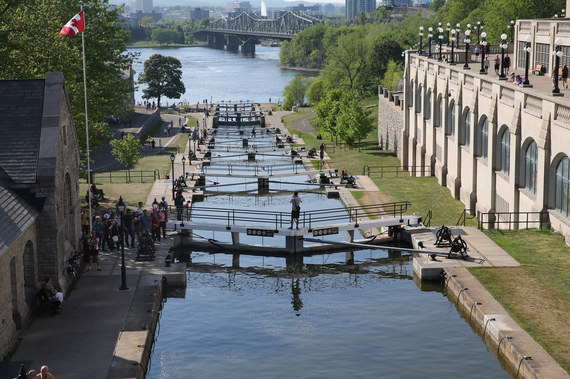 The Rideau Canal, a series of lakes and rivers linked by canals and connected by about 47 locks, is a National Historic Site of Canada, a Canadian Heritage River and a UNESCO World Heritage Site. Whew, that's a lot of awards! It stretches from Kingston, at the foot of Lake Ontario, to Ottawa.
The Rideau Canal is the oldest continuously operated canal in North America. The locks are operated by hand as they were when first opened in 1832. It's quite a sight to see. We accessed the canal from steps off the Sappers Bridge near the East Block of Parliament.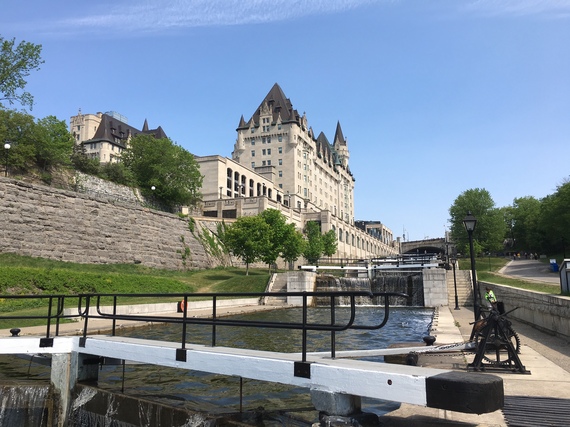 Interesting fact: The canal was excavated when the British became interested in building a water passage for ships between Montréal and Kingston during the War of 1812. After the war, scouts were sent to assess proper locations and, upon arriving at Wrightsville, determined that the Rideau River would be the shortest and best route. This would require building a canal and lock system, however, because the Rideau Falls were the only point of contact between the two rivers.
To market!
Ottawa's ByWard Market area covers many blocks of specialty shops, restaurants and farmer's stands. It's a popular spot for locals to get some fresh vegetables, crusty bread and cheeses on their way home. The restaurants stay open late to accommodate the tourists and late-night crowd.
We discovered a French Boulangerie hidden a few blocks from the main shops with a delectable array of cakes. There's also a Polish butcher's shop and delicatessen with excellent homemade pierogis.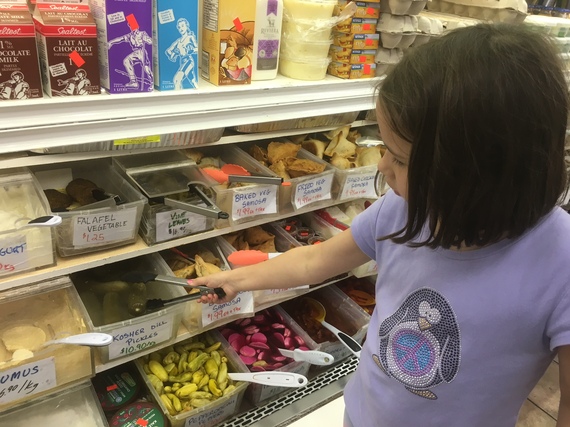 Some say the ByWard Market is where Ottawa began. It's first settlement was founded in 1800 by Philemon Wright, an American who received it as a land grant. He brought lumbering to the area and built a lumber village known at the time as Wrightsville. The market sits where the original downtown markets served residents, predominantly service personnel and blue collar workers from the lumber yards.
The Lowertown area, as it was known then, witnessed many conflicts, both racial and political. But by the 1850s tensions lessened as shops and businesses appeared and mills started being built. By the time train service reached Ottawa, the Market needed its own rail yard.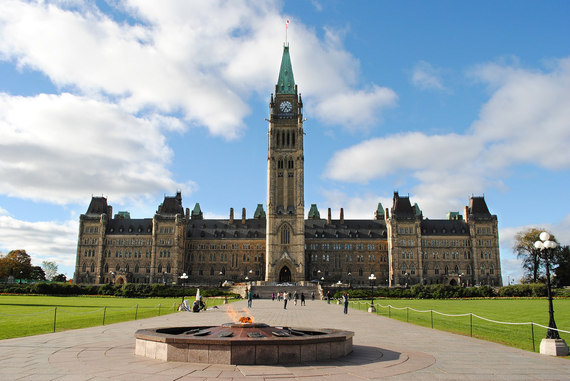 Parliament is in session
When visiting the capitol you'll note that Parliament Hill is set up in blocks. The Centre Block is home to the Senate, House of Commons and Library of Parliament. Tour tickets are available year round, and in order to see inside you'll need to take the tour. Same-day tickets are available at 90 Wellington Street on a first-come, first-served basis.
Anyone who is part of a guided tour has access to the Peace Tower and Memorial Chamber as part of their visit. The 53 bells of the Peace Tower Carillon add an unusual soundtrack to your visit, but if you can climb to the top of the Peace Tower to get a 360 degree view of the capital. The Memorial Chamber commemorates Canadians who have lost their lives in military service.
The East Block has guided tours between July and early September. It was the nerve centre of Canada's government during its first hundred years. Guided tours take you inside restored heritage rooms to explore parliamentary life in the late 19th century.
Exploring the final frontier
At the Canada Aviation and Space Museum, you can browse exhibits commemorating Canada's many achievements in aviation and space flight.
The exhibition begins with a look into how people imagined space travel. It includes the famous French Canadian tale about lumberjacks that fly in a canoe as well as our family's favorite video Le Voyage Dans la Lun (A Trip to the Moon) by Georges Méliès circa 1902 and recently revitalized.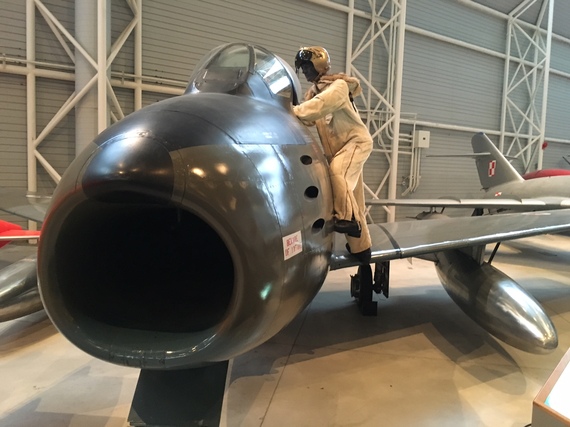 Aircraft are arranged according to time period and use. You'll be especially impressed with its Jet Age and Bush Flying exhibits.
The interactive space program experience is hidden in a side gallery. You don't want to miss this corner where you'll get to view the earth as if you're in orbit, learn about living in space - including sleeping and using the bathroom - as well as the physics behind space travel.