Each trip to San Diego started with the best of intentions. We wanted to visit the famous San Diego Zoo with our three young children. We planned to explore the historic Gaslamp District. We wanted to check out the USS Midway aircraft carrier museum.
And then we arrived in Mission Beach, and it all fell through, like the coarse gray sand slips through your fingers. We were grounded.
Part of the reason is Mission Beach, a small community of vacation rentals built on a sandbar in the Pacific Ocean. It's a little bit like the Hotel California -- once you check in, it's very hard to leave. Mission Beach's alleys are as narrow as those you'd find in St. Augustine, Fla., or Venice. Once you find a parking spot for your rental car, you really don't want to risk losing it again.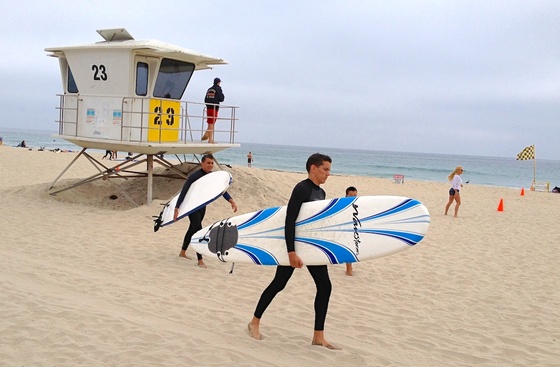 But another reason is that this bustling beachfront community has a lot to offer an adventurous family that's always looking to learn something while they're away. On our first visit to Mission Beach in 2009, we found a rental through VRBO.com, which lets you rent directly through an owner. When we returned this month, we rented through a professionally managed vacation rental agency.
North Mission: a high energy playground
In Mission Beach, everything is stacked close together and the rentals are up to three floors high, not including an upper deck where you can see the ocean, have a barbecue and in the southernmost neighborhood sometimes even catch the fireworks above Seaworld. The lot sizes range from 1,250 square feet to 2,400 square feet, which is downright cozy. Most of the rentals come with their own parking spot, but guests must fend for themselves, when it comes to a spot.
Being stuck in Mission Beach is not bad at all.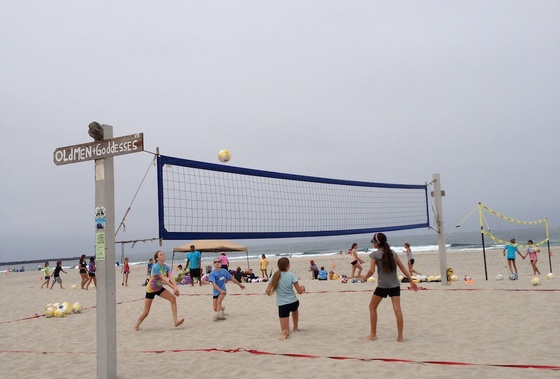 Our first rental in North Mission was only a few steps from the Pacific, and it seemed to be in the middle of the action. There's a large chain grocery store, plenty of restaurants and wide stretches of manicured sandy beach in this section of town.
That suited us just fine.
We found a grill on the rooftop of our vacation rental with an incredible view of the shore. There was so much to do that we only made one off-island trip the whole week, and that was to Legoland.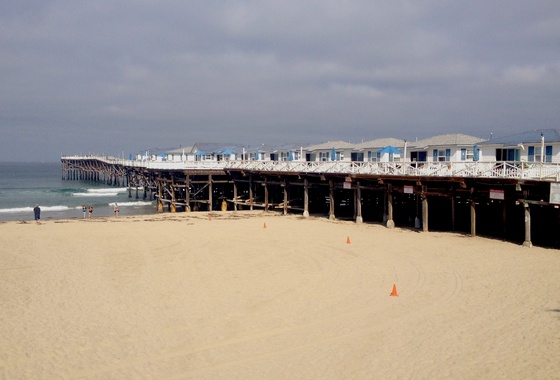 Of course the kids were much younger and we'd just started thinking about the big family road trip adventure. Our daughter, Erysse, was still in diapers and Aren had just started kindergarten. Topping our daily "to-do" list: long walks to the Pacific Beach pier. Its grand wooden structure is dotted with tiny white cottages with blue shutters that are hard to miss. We also made it down to the Belmont Park, an amusement center complete with an old-school wooden roller coaster and other shore standards, including bumper cars and neon mini golf. Back then we took our time exploring the beach, watching beach-goers practice volleyball and viewing the surfers braving the turbulent, frigid Pacific. At sunset we'd spot dolphin.
Mellowing out in South Mission Beach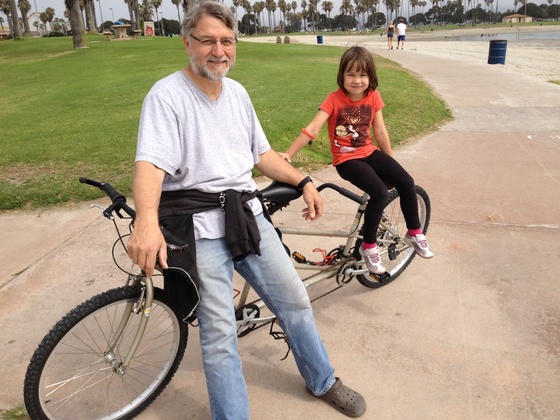 For our latest trip, we found a cosy vacation rental in the quieter, more residential section of South Mission Bay. We hadn't questioned the name during our first visit but this time we actually found the bay. It's made up of eel-grass beds, mudflats, and sandy bottom shallow water habitats. Lots to explore.
Before we left home, I asked the kids pack their snorkel gear, but as it turns out our vacation rental already had a glass-bottom kayak, paddle boards and boogie boards we could borrow. It made floating over the shallow bay and looking for critters so much fun.
We found fascinating sea grass, crabs, snails and water bugs on our impromptu tour. Early morning bike rides past the marshier sections allowed us to see all types of birds, from the over-sized great blue heron and pelican to the curiously beaked whimbrel (this great website helped us identify what we discovered in the bay.)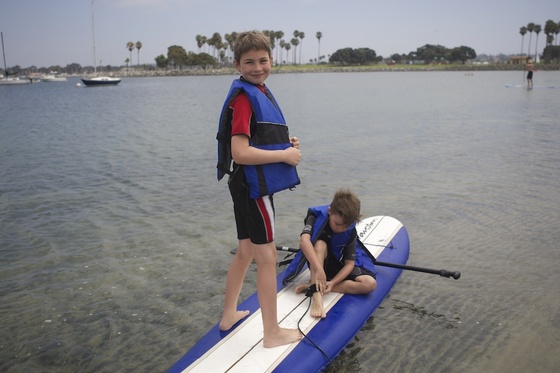 There was so much to do right at our home away from home, that we forgot we were supposed to explore the rest of the city.
Maybe next time we'll make it to Cabrillo National Monument, Mission San Luis Rey or the California Surf Museum. But for the rest of this trip we're sticking to the beach.