Have you ever wondered what would happen if while visiting a famous city you fed your kids high sugar sweets all afternoon while personally enjoying highly caffeinated beverages?
It isn't pretty.
Rational thinking and rational behavior are the first to go. And that's just the parental side of it.
My friends, you don't want to see the "before" and "after" images. So instead, we're showing you pictures of the kids, enjoying their alternate coffee crawl. Theirs involved muffins, scones and donuts -- the pastry crawl, if you will.
Ours? Espresso, of course. Eight cups in two hours, straight up! Sure it was a hardship, but we resolutely refused to visit the den of award-winning espresso roasts without tasting our fill.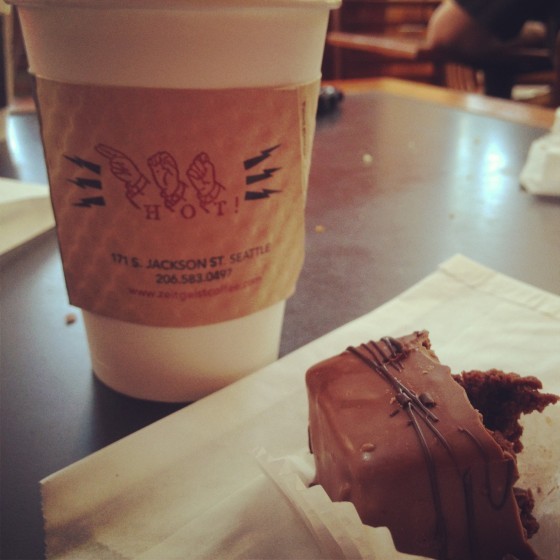 Warming up. Unofficially, we started our tour yesterday with a quick walk from our vacation rental, visiting Zeitgeist in Seattle's Pioneer Square District and, of course, the original Starbucks. Go ahead, and laugh. We love Starbucks.
Seattle Coffee Works, which is just above Pike Place, was our first stop. We thought we had it in us to do a shot of espresso and a small Americano at each of these joints, but right off the bat Chris and I agreed to split a small Americano between us. Erysse is still raving about her party doughnut while Aren preferred the apple muffin. Our grade: A-.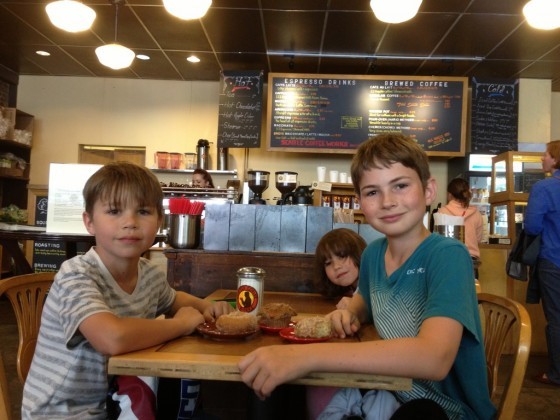 Cafe Ladro, a few blocks away, reminded us of those coffee shops you find in a 1960s tenement apartment in East Germany. But darned good coffee. A little strong for our tastes, but we aren't complaining. Starting to get a buzz now. Our grade: B.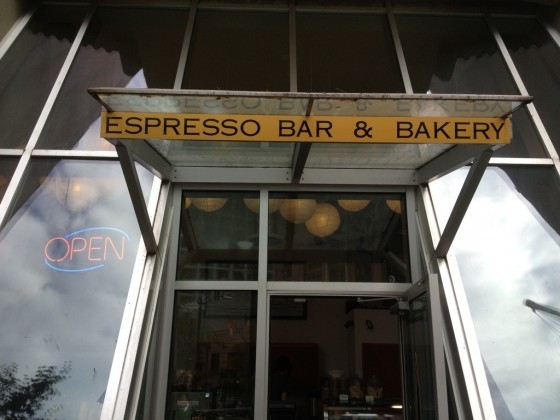 The Bauhaus. Nice ambiance, but somewhat lacking in the friendliness department. The snippy barista added a 25 cent surcharge for the "convenience" of using my credit card, then ordered me to write the total on the receipt. Maybe I should have ordered my Americano iced. Grade: D+.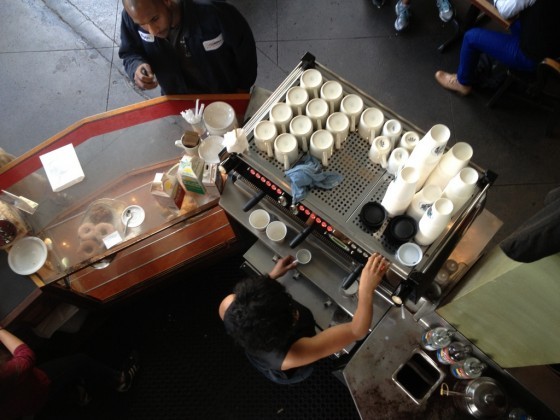 The Victrola. Amazing coffee. When you find a place that has its own in-house roaster, you know you're in the right place. Grade: A.
Kaladi Brothers. Quite possible the best coffee we had all day. Also, the friendliest service. We stayed here a long time, and the kids even shared their gluten-free raspberry scone. We could write a whole story about that scone! Grade: A+.
Stumptown. One of the nicest places to hang out, and we thought the coffee was excellent, if a little strong. Not that there's anything wrong with strong. Aren loved the sticky sweet elephant ear pastry. Adults didn't dare try any. Grade: B+.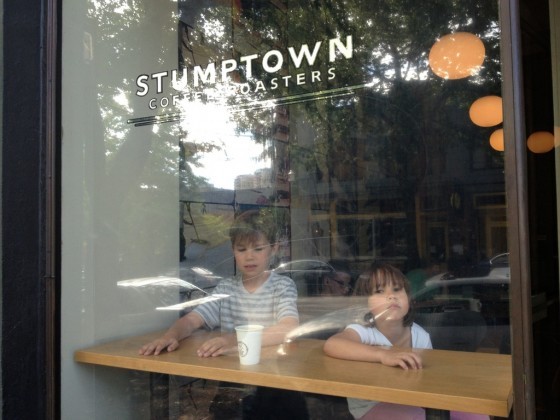 Cafe Vita. Really nice espresso and a fitting end to our coffee crawl. Iden picked out a fantastic snickerdoodle cookie which paired well with the coffee. Also, one of the nicest places to just hang out and talk. But alas, the kids and the adults were too wired and sugared up to do anything but stand.
Top Pot. We swung by here to pick up donuts on the way home. I've been here before and have enjoyed its excellent A-grade espresso. By the way, the donuts are extraordinary, too.