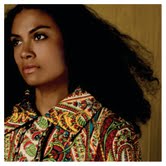 This year I started off with a 'wish list'-- not so much a resolution, but more of a list of people with whom I would like to share my thoughts and talents. Across several categories, I picked one person who I felt made organic contributions to the world. I made an attempt to connect with many of them. Unfortunately the Dalai Lama was not available to meet for tea and spiritual exchange, and Bill Gates didn't return my emails about ways to improve Microsoft, so I kept moving forward. High on my list was a singer that reached that impacted me on so many levels, not only with the sound of her voice but with lyrical content that touched my spirit. No matter what I was going through I would listen to her music and feel better in those magical moments. I reached out to the powerful songstress Amel Larrieux about sharing some of my organic beauty art with her, and lo and behold she accepted.
Amel has been singing since birth. Her mother, dancer-writer extraordinaire Brenda Dixon Gottschild, shares a story about how at 18 months Larrieux began waking herself up by singing. She began writing music at age 5. She was the lead singer in the group Groove Theory, signed to Sony Music, and was nominated for a Grammy. She currently records and performs all over the world with a huge devoted following, all while maintaining balance between marriage, motherhood and career.
My interview with Amel Larrieux:
Q: You are such a natural beauty. With all of the pressure to be 'over the top' both visually and lyrically in the music industry has natural beauty been difficult to maintain? How do you keep it organic?
A: It tugs on my soul at times to be natural in an environment that is so not. I find a great deal of balance through meditation, and by going internally. Being in the public eye is not very natural if you get vested in it. I focus on writing songs and singing; there's no burning desire for fame or stardom. I have to have support from the center of my soul, because that's what sustains me. I also like having conversations with people. Pleasant connection human exchange is like nothing else in the world. I believe in humanity, and having another space to grow another way of thinking, and this inspires me to write. When I write it's about the experience in the moment.
Q: You have such an amazing family foundation, and you keep them very close. How do you maintain this?
A: Laru is my husband and manager, and produces all of my solo albums. We have been married 18 years and are raising daughters that are both artists. Every relationship has peaks and valleys, but the beautiful thing is he respects me and wants the best for me on every level. If you don't have that, it becomes the root to all dysfunction.
Q: Your oldest daughter Sky is in your band, when did you discover she was musically inclined?
A: We figured out oldest daughter was musically inclined at about 3, when she would be singing the bass line of songs. She can play most things by ear and joined the band at 15, She just started playing guitar. She also writes and produces music.
Q: Is your youngest Sanji-Rei artistic?
A: Yes! She loves acting, singing and she is an amazing dancer.
Q: What is your alter ego?
A: (laughs) A park ranger. I would love to spend that many hours outdoors. Nature feeds my soul. I really connect with nature and earth.
Amel will be performing June 17 with Groove Theory at SummerStage in Central Park, NYC as part of the Blue Note Jazz Festival. For more information visit www.bluenotejazzfestival.com