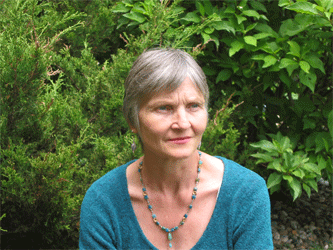 Robin Block is the co-founder of Wyndmere Naturals, a premiere aromatherapy company in the United States. She is a native of Minnesota, with German and Norwegian parents and six siblings. Block has incorporated values of honesty, hard work and compassion into her career as an aromatherapist. She is my personal essential oil and aromatherapy guru. I immediately feel balanced in her presence, and I'm always impressed that she has absolutely no dark circles under her eyes, which she attributes to her use of rose otto essential oil. There is an art to making scents, which Block has mastered. Her synergistic essential oil blends like Road Rage Relief, Mentally Sharp and Romantic Nights help bring emotional balance to many of life's challenges. My favorite of her synergistic blends is called Joyful Spirit, which is a blend of orange, maychang and ylang ylang, that uplifts, inspires creativity and promotes confidence.
Q: What is your first memory of a beauty ritual or routine?
A: My first beauty ritual was that of bathing. We used to use little bath balls, and we put them in the tub when we took a bath.

Q: What natural remedies were you introduced to early on?
A: My mom told us to use rain water to rinse our hair, because it makes hair soft. Everything we used was pretty natural, and we didn't have access to much cosmetic makeup and nail polish. I remember eyeshadow being popular, but to this day I have never worn foundation on my skin.

Q: What impact did your Minnesota home have on the way you view natural beauty?
A: Everything was very simple and pure where we lived.
Q: How did you get introduced to essential oils?
A: In 1988 and for the following six years, I lived and worked in England. During my time abroad I suffered with chronic pain. In dealing with that, I learned about the healing properties of essential oils.

Q: What exactly are essential oils and aromatherapy?
A: Aromatherapy is a holistic therapy that uses essential oils to improve one's health and psychological well-being. Essential oils are highly concentrated extracts from the aromatic parts of herbs, flowers, trees and grasses. Valued for thousands of years, they are totally natural substances that have the ability to positively influence the mind and body.

Q: How are essential oils and aromatherapy used?
A: The general rule is to dilute them before using topically. They may be diluted in carrier oils, lotions and hair care products, added to a bath, diffused in the air using an aroma lamp or diffuser, or added to water in a spray bottle.

Q: What inspired you to start Wyndmere Naturals?
A: I realized how difficult it was to obtain high quality oils at affordable prices. Together with my colleague, Cyndi Trachy, we decided to find a positive solution to this problem. In 1996, Wyndmere was founded on the principle of bringing high quality, genuine and authentic, pure, therapeutic-grade essential oils to the market at reasonable prices.

Q: What is your favorite beauty food?
A: Hands down, it's water.

Q: What are your current favorite beauty rituals?
A: I like to bathe in essential oils, because they help to hydrate. I also take baths with bentonite clay to detox. I wash my face with lavender hydrosol which is a true floral water collected during the process of distilling essential oils that can be used as a skin toner or a body mist. For moisturizing, I use our coconut oil based lotions because of the fantastic properties of coconut oil. I use the lotions on my face and body as it really helps with winter-time spots of excema that like to "surface" during our dry winter months.
PHOTO GALLERY
Wyndmere Essential Blends