After seven hours of traveling--car and plane--to Rio de Janeiro, all I wanted when I arrived was a caipirinha.
"So you're going to the Leme district?" the taxi driver asked me at the airport. "40 reais."
"How about 30?"
"Fine," he affably led me on a leisurely ride into the city, the warm air already making me happy (this is "winter" in Rio), and cruised down Copacabana, along the beach, with skyscraper five star-hotels glittering on the boardwalk. "There," he smiled. "This way you can see the sea," he pointed out the window.
But when we got to Leme, his face dropped. "Where in Leme is this place?" he turned around and grabbed my address book. "Hold on, this place is up the hill! In the favela! All this for thirty reais!"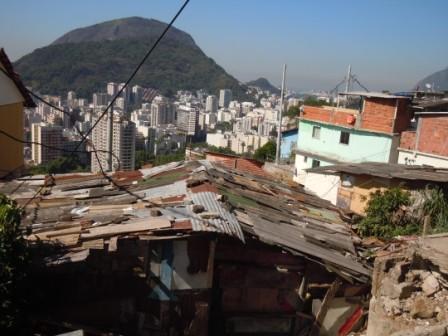 The street became narrow and steep; the buildings crooked and dilapidated; we passed one police car after another, stationed at the junctions, on guard, and ever so often, a group of kids hanging out on the street, or a few men in an open bar cheering on a sports game on TV.
"Did you get this hostel off the internet?" the taxi driver grumbled. "I bet they didn't tell you where it is."
"Oh they did," I said, enjoying this surprisingly lively neighborhood, and spotting bars for a possible caipirinha.
Every so often, the taxi driver would jam to a stop, and call out to other taxis, jammed on the perpendicular road, asking where this hostel was, then turn up another lane---or, with a few swears--go in reverse back down again.
A half hour later, we found it.
"All I want is a caipirinha," I said to the young man who led me into his family run-hostel, with the best views of the Cristo in town.
He winced. "A caipirinha, here? No, those bars you passed don't serve them. You have to go back down to Copacabana."
"How about food?"
He gestured out the door, to a shack at the end of the road.
"Is it safe to walk back alone, now at midnight?"
"Safe? This is the safest place. It's the rule of respect here. We are a community."
At the burger shack, I stood in line with a mother and a child, who hid behind a pole and smiled when I winked at her.
"Tu falas ingles?" the little girl asked me, and then raced around the pole once more.
"Yes, and you?"
She ran around the pole again.
"Might you have a caipirinha?" I asked the warm young woman in a cap doling out burgers to the night crowd, who sat around at a few wooden tables in the plaza.
She frowned. "Não." Only in Copacabana.
A man with a scrawny undernourished look tapped my shoulder.
"You want a caipirinha?" he grinned. "No worries. I will go to Copacabana and get you a caipirinha!"
With a jovial warm look---the girl calling out to him to remember to come back and pay---he ran off into the night, down the long hill, miles away to the beach.
When my vegetarian burger (my invention of it with the chef) was ready, I sat down at the table, wondering...
And suddenly, the man appeared, chugging a full glass of capirinha limao.
"For you!" he said.
I asked him how much it was--- --wondering what might he want?
"Nothing! This is my gift to you."
He was from Salvador, he told me, the city in the north from which I had just come.
"And I never knew my father," he leaned forward and offered me some of his fries. "I met him for the first time when I was 18. Now I am 36. 18 plus 18." He laughed. "See, I like that. 18 and 18."
"I found him," he added proudly. "By memory. I remembered how his house looked when I was a little boy."
Soon after he left Salvador, heading south alone.
His sandwich arrived. "Please do have a bite," he offered, and put his plate before me.
And now? What did he do in Rio?
"I transport things. I bring things up and down the hills, on my back. Chairs, stones, building materials. Whatever people want. There are no roads in some parts of this favela. I am not homeless! I work. I must you know," he smiled. "To support myself. My brother's wife has given me a room to live in too."
He offered me another French fry.
"How do I get the work? Oh everyone knows me here! Because I am good at what I do. It's reputation, it's word of mouth."
As he spoke, a woman in a mini-skirt came by with a lovely laugh and kissed him on the cheek.
"I painted her house for her," he smiled happily. "I do lots of different jobs. I must, you know, to live."
"Hello, hello!" he said to another neighbor strolling past, with a big wave.
He jumped up when I needed ketchup, and went to the counter for me.
"How is your caipirinha?" he said.
"Excellent," I said.
He touched his hand to his heart.