Alec Baldwin met with journalists at Cannes to talk about the new documentary he just starred in, directed by his now good buddy James Toback, Seduced and Abandoned.
The star dedicated much of the conversation not to the film, but to his new relaxed approach to life, given what he considered his advanced age. "Look I am expecting a child with my new wife. Now that is important. And the fact that I got a 29 year old Spanish yoga teacher to marry me, that makes me happy!"
He animatedly noted that yes it would be a nice fantasy if Spielberg were to come to him and say, "I want YOU, you Alec Baldwin, not Daniel Day Lewis, to play Lincoln," but "let's face it, that's not going to happen."
Baldwin's easygoing affability comes across in Toback's film as well. Basically, the film is a fun ride through the saga of trying to get a movie financed at Cannes, as the two pitch a film inspired by Bertolucci's steamy Last Tango in Paris. The pitch: Baldwin and a female star would have an intense sexual affair, in an exotic country like Iraq, but have nothing in common.

"Fascinating, no?!" enthused Baldwin.
The easygoing Baldwin and humorous Toback make a cheerful team as they go around unsuccessfully to meet billionaires, movie moguls and producers along the Riviera, and soon become educated in the difference between a 5 million dollar film (fairly easy to get) and a 20 million dollar film (no one will risk it). Throughout, Toback shows the validity to the Orson Welles' quote that starts the film: "Making a film is 95 percent about raising the money. 5% about making the film."
The audience at the Cannes premiere laughed heartily throughout this entertaining film, not only because the humor is bright and clever -- reminiscent of a good Michael Moore investigative romp (but this time along the Croisette) -- but because we, with our badges, all recognized what was going on: the business deals with moneyed sellers in the Market, the champagne on the yachts, the gatherings of well-dressed bigwigs in the elegant white-couched Carlton suites.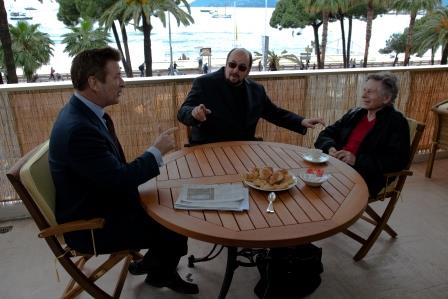 But what makes the film particularly enjoyable, for a cinephile at least, is that "finding money" is only a pretext, an excuse for Toback to celebrate the film world, from the Red Carpet to Mean Streets. We have archival photos of Cannes since the 1950s. We have amazing interviews with cinema luminaries such as Roman Polanski, Martin Scorsese, Ryan Gosling, Jessica Chastain, Diane Kruger, Bernardo Bertolucci and Francis Ford Coppola. Unlike other token star interviews, we actually learn something in these clips: that Polanski preferred to make his Holocaust film about the Warsaw ghetto, because he "did not want to touch his personal memory" of the ghetto he was in, Krakow. That Gosling finds auditions intimidating. That "brother rivalry" is a theme that obsesses Scorsese.
We also have clips from our favorite films. And encounters with an impressive range of celebrities.
In fact, rather than a film that discourages would-be cineastes, it inspires one to keep the dream alive.
After all, Toback announces sardonically in the film, movies are a way to ward off death.