Michael Haneke's new film Love [Amour] begins with the violent breaking open of an apartment -- and then we see firemen holding their noses, ostensibly from the smell of a cadaver.
After this dynamic opening, the movie turns into an intensely still drama about an elderly man (Jean-Louis Trintignant) dealing with his wife's (Emmanuelle Riva) decaying health. The camera never leaves the apartment, just as the husband never leaves his wife's side as she goes from bad (demented) to worse (paralyzed). Isabelle Huppert steps in a couple times, as the couple's concerned grown-up daughter.
It is one of my favorite films at the festival -- and clearly a great hit with the public, who gave Haneke and crew a standing ovation at the premiere. It is my bet that Trintignant wins the best actor award.
What does Trintignant do in this film? He basically feeds his wife applesauce, he carries her to her bed, he caresses her hands as she moans, he fantasizes that she, a former pianist, is playing Schubert once again. The film -- as the title suggests -- is a testimony to love. The gaze of the old man on his wife's mottled skin -- while he tells her she is beautiful -- is one of those small miracles that bring tears to the eyes. We all know those couples who, after many years, still look at each other with love -- and those who do not.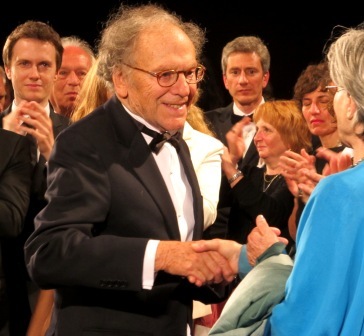 The man gives his wife dignity.
"It was nice," the dying woman says, as she slowly fingers a photo album of her past, showing her as a little girl, a pretty woman...
"What was?" her husband says calmly.
"Life."
A few audience members I spoke to -- all under age 30 -- found the film boring. "Nothing happens. We stay inside the room."
Yet a lot happens even in the small dialogue when the wife, lying in bed, teases her husband: "Now you want to hold my book for me as I read?"
The two exchange looks.
"Why did I make this film?" Haneke mused at his press conference. "Once you reach a certain age, by necessity, you have to contend with the suffering of someone you love, your spouse, your grandfather. In my family as well, there were events that were not very happy. It is very difficult to deal with the suffering of people you love."
What I especially appreciated was the brilliant filmmaking: so subtle, it almost goes unnoticed. As actress Emmanuelle Riva noted: "Because the film is simple, sober, it is powerful." The movie is carried by the voices: the couple speaks to each other in a poised calm rhythm, almost like Alexandrine rhyme in a drawing room play.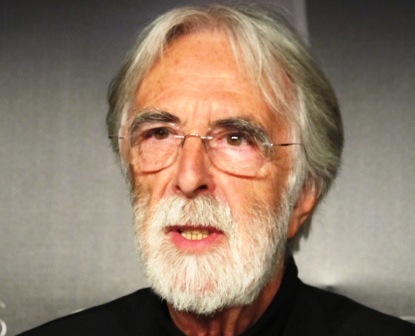 Michael Haneke nodded, quick to agree that sound was essential to his filmmaking:
"We work with emotions, and if the emotions are right, then the voices are right. There is an inner musicality in dialogues, and you have to find this musicality. It's like opera: the dialogue expresses emotions. I work more with my ears than eyes. When I worked in the theater, I often looked down at my feet, and the actors told me you are not looking at me, but actually I can see better this way. Because you can immediately see with a sound if something is artificial. So it is not important to watch when I am filming, but it is important to listen."
"Michael is very sensitive to sounds," interjected lead actor Trintignant, confirming Haneke's point.
"Yesterday we had a dinner with friends, and Haneke said: you were absolutely stupendous at this dinner. When did you find me stupendous, I asked? He told me it was when I said 'yes.' It was just right, he said." The actor laughed. "But then I worried that the rest was not quite right.
For a movie which lulls us into a relentless present wtih the even sounds of voices, there are still remarkable peaks of drama. One involves watching a nurse bathe the wife in a sterile white bathroom, while she moans and bends forward.
Another involves a young concert pianist who comes to visit his former piano teacher, the ailing wife.

Of course, this is not the first time a student visits his piano teacher in one of Haneke's films. The Piano Teacher (2001) also features an older pianist with her student: Isabelle Huppert as a sick woman who enters a disturbing sado-masochistic rapport with an admiring young man, and eventually mutilates herself with a razor blade.
Instead, in Love, the young man who visits rhapsodizes about how meaningful her teaching has been to his burgeoning career. The wife nods, pleased he has come so far. He sends her a CD of his new album: a testimony to the value of a life, and the importance of artistic transmission.
Quite a different story from the sick teacher-student relationship in The Piano Teacher.
Haneke, known for his dark, suffering, violent films, seems to have had a change of heart.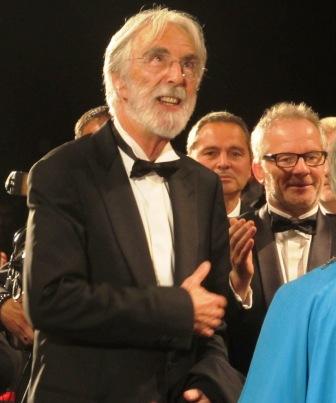 The movie ends with a fluttering pigeon.
all photos by Karin Badt