The camera pans down a stormy rainy tree-lined street in Paris, leading us directly to the doors of a dilapidated theater, as lightning strikes and Alexander Desplat's music goes into a crescendo. Thus begins Roman Polanski's new film Venus in Fur which premiered yesterday at Cannes, an opening that recalls the ominous beginning of Rosemary's Baby, where the camera pans over New York only to lead us into the dark corridors of the devil-infested "Bramford Building". Once again, we are trapped in an evil huis-clos.
But in this film, once inside, we don't get out. We are enclosed with director-writer Thomas (Mathieu Almaric) and actress Vanda (Emmanuelle Seigneur) as she auditions for the role of a dominatrix in his new play. The quote that introduces the play: "God struck him and delivered him into the hands of a woman". We can predict what will happen. Thomas has been searching, for a long time, for the actress who can play the strong woman who can compel a man to submit....
The movie consists of the two of them reading lines together to see if Vanda can be this strong woman. A play within a movie, based on David Ives' Broadway hit.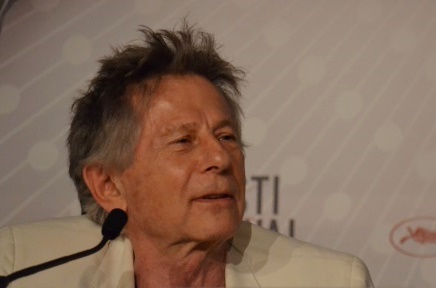 "It is a challenge to film a play," said Polanski at the lively press conference. "And not make it boring filmed theater."
This is the originality of his movie: Polanski creates a dynamic effect with lightning, camera movement, costumes and furniture. And it is this choreographed dance between set and actors that keeps the story moving. In one scene, Thomas scowls at his desk while Vanda, dressed in an outlandish vulgar S&M leather outfit, with spiked dog collar to boot, leans against a phallic column, trying to assert her presence. A moment later, she is lounging seductively on a Josephine couch, wearing an 19th century fluffy gown and he is wringing his hands. By the end of the play, the characters (four characters in fact, as each plays another) have developed an intimately sick relationship and the theater has transformed into a cinematic misty nightmare.
Polanski commented:
David's play takes place in an audition room. I changed it to a theater. We built the set to give the possibility to move around, so it is not claustrophobic. We found a real theater, to build it in, but it was totally gutted, like a bunker inside. Two redeeming features; it had two levels and it had a sloping floor. Jean Debasse created the decor.
He noted that making this movie was like going back to his early work, Knife in the Water (1962), where three characters are trapped in power relations on a boat. "But this time I have two characters."
What is most interesting about Venus in Fur, in fact, is how it cites and develops themes of Polanski's previous films which also featured innocent or not-so-innocent victims being preyed upon by sadists until (sometimes) the roles reverse (see Bitter Moon, also starring Seigneur, and Death and the Maiden).
But this is the first time we see the victim's complicity with sadistic treatment. Perhaps the sexual psyche is inherently perverse? Thomas wants to be abused; he willingly plays the game.
"Does he?" Polanski smiled. "Maybe not to this extent." He turned with a pleasant grin to Almaric sitting next to him. "You better ask Mathieu how he felt!"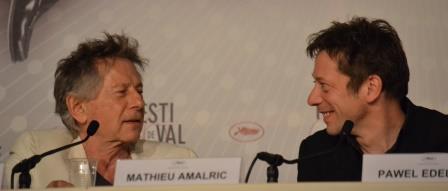 Polanski offered his own interpretation of his work: "The satire of sexism was very seductive in this film. There is this macho element in his character which is torn into two pieces, which was quite enjoyable."
He added playfully. "The people who know me know I am not this way, for example."
Polanski was perhaps responding to the fact that critics have detected a scattering of personal elements in this latest film: both in its allusions to child abuse (recalling Polanski's pedophilia conviction) and its subtext about whether a director-actress relationship is inherently sadistic. In this movie, Polanski directed his own wife, Seigneur.
Pointing to the film's success, the press conference was as fun to watch as the movie. Polanski charmed us throughout with his ironic jokes, making the packed room of journalists resound with laughter, and often turning to his fellow team players with friendly complicity.
But there was perhaps a subtext even here. Seigneur, who demurely sat next to her husband during the conference, in a rare moment spoke up and stumbled into a response of her own---that is until Polanski playfully (sadistically?) cut her off. "Watch out, they're going to think you're a dumb blonde!"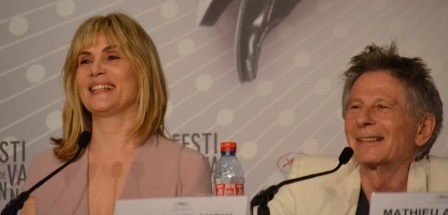 He then dug his own grave--delivering himself up to the press-- when asked about how his own relationship to women has changed during the years:
"Today even giving flowers to a lady has become indecent. Trying to level the genders is purely idiotic, and I will be Marxist, and say it is the result of the progress in medicine, and the outcome of the pill. The pill has changed greatly the women of our times, masculinizing her--is that the word? It is a pity."
Yet in his movie, it is the woman who levels the man. Not only is Emmanuelle Seigneur a powerful actress (more powerful from the beginning than Almaric--which is the one critique I'd make of the film), by the end of their power-play, Thomas is (warning: plot spoiler) strapped to the lofty phallus.
The question remains: is this what he really wanted?